Emerson Drive At Grand Ole Opry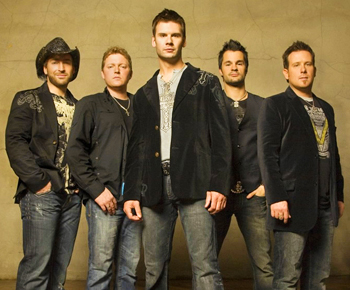 Formed in Canada in 1995 by Brad Mates, Pat Allingham and Chris Hartman under the name 12 Gauge. They were soon joined by guitarists Dan Binns and David Switzer, bass guitarist Jeff Loberg and drummer Remmi Barre. In 1996, they entered a local "Battle of the Bands" contest, where they won the opportunity to write and record an extended play, Open Season. After beginning work on their first studio album the next year, they toured around Canada in the late 90s and charted two songs in Canada. Around this time, Switzer, Binns and Barre left the group.
After finding success in Canada, the band decided to head to Nashville, Tennessee, with new members Danick Dupelle and Mike Melancon. There, they were forced to change their name, as an American rap group already had the name 12 Gauge. They decided on Emerson Drive after the Emerson Trail that crosses Western Alberta and joins the Alaskan Highway. They were soon picked up by DreamWorks Records and released their first American single, "I Should Be Sleeping." The song became a Top 5 hit in 2002 at Number Three. Their follow up single, "Fall into Me" peaked at Number Two. Also in 2002, Jeff Loberg left the group to focus on his songwriting and was replaced by Patrick Bourque. Shortly after, Chris Hartman was replaced by Dale Wallace as he left to go back to school, while Pat Allingham was replaced by David Pichette so he could spend more time with his family.
Emerson Drive's second album, What If?, was produced in 2004, releasing singles like "Last One Standing." Their singles throughout the 2000s regularly made the Top 50 on the Country charts, including "A Good Man," "You Still Own Me" and "Belongs to You." Their 2006 single "Moments" charted at Number One.
Throughout the band's career, they have won numerous awards, including Billboard Magazine Year End Awards' Top New Artist in 2002, the 2003 Academy of Country Music Top New Vocal Group or Duo and the Canadian Country Music Association's Single of the Year for "Moments" in 2007.

Newsletter Signup
Signup to be notified when new dates are added:
Emerson Drive has
no current dates
scheduled at Grand Ole Opry.
Click here
for complete schedule. Sign up for newsletter to be notified when dates are added.