Elizabeth Cook At Grand Ole Opry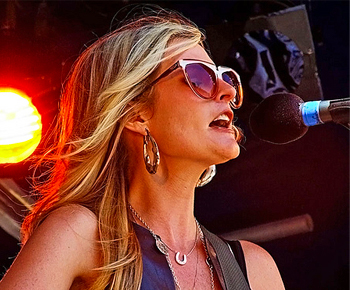 Grand Ole Opry guest artist Elizabeth Cook was born in 1972 in Wildwood, Florida. She made her Grand Ole Opry debut appearance on March 17, 2000, Cook grew up in Wildwood, the youngest of eleven children, in a musical family. Her mother played mandolin and guitar and performed on local radio and television when she was younger; her father played string instruments. Cook's parents sang in local country bands together, joined by Elizabeth when she was four years old. By age nine, Elizabeth had her own band.
In 2000, Cook independently released The Blue Album and made her major label debut two years later with Hey Y'All. 2004 brought This Side of the Moon, which was met with praise from The New York Times and No Depression. Her most successful album, Balls, was released in May of 2007, while her most recent album, Welder, was released in 2010. Welder was listed on the list of 30 Best Albums of 2010 in Rolling Stone.
On these albums, she has released seven singles, including "Stupid Things," "Before I Go That Far," "Sometimes It Takes Balls to Be a Woman," "Sunday Morning" and "All the Time," all of which that also have had music videos released.
In 2010, Cook performed three of her songs on Bob Harris Country on BBC Radio. She performed her songs "All the Time," "El Camino" and "My Heroin Addict Sister." She hosts a radio show on Sirius XM radio, "Elizabeth Cook's Apron Strings," which features a mix of Americana, Outlaw and Alternative Country music. Although she is yet not a member of the Grand Ole Opry, she has made appearances on the stage over three hundred times.
Newsletter Signup
Signup to be notified when new dates are added:
Upcoming Dates at Grand Ole Opry: