Dwight Yoakam At Grand Ole Opry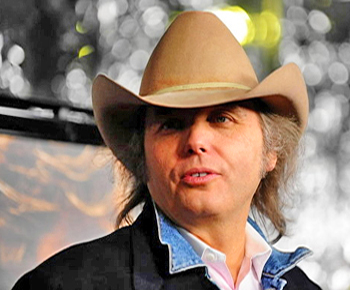 Dwight Yoakam is a country music singer/songwriter, actor, and director. He is best known for his pioneering work in country music, and has been popular as an artist since the early 1980s.
Born in Pikeville, Kentucky in 1956 to Ruth Ann and David Yoakam, a young Dwight was raised in Columbus Ohio. As a teenager, Yoakam excelled at both Music and Drama, and was known for singing and playing guitar with local garage bands.
Yoakam encountered resistance in Nashville, Tennessee towards his brand of Honky Tonk, "urban cowboy" music, and later relocated to Los Angeles, California to continue his music career. He performed with punk rock and roots rock acts like The Blasters, Los Lobos, and X. It was playing alongside these bands that he diversified his audience, and his groundbreaking music is often credited with getting rock audiences to eventually accept country music.
In 1986, Reprise Records released Yoakam's debut recording album, Guitars, Cadillacs, Etc., Etc. which launched his career. "Honky Tonk Man" and "Guitars, Cadillacs" were hit singles, and the music video for "Honky Tonk Man" was the first country music video to be played on MTV.
Yoakam's film career has included starring roles in Sling Blade, Panic Room, Hollywood Homicide, and Bandidas. He also appeared in Crank, Crank 2: High Voltage, Wedding Crashers, Dirty Girl, The Last Rites of Ransom Pride, Red Rock West, and the television show, King of the Hill.
His other hit albums include, Hillbilly Deluxe, If There Was a Way, Blame the Vain, Dwight Sings Buck (an album dedicated to Buck Owens), and his most recent album, 3 Pears.
Newsletter Signup
Signup to be notified when new dates are added:
Dwight Yoakam has
no current dates
scheduled at Grand Ole Opry.
Click here
for complete schedule. Sign up for newsletter to be notified when dates are added.