Doyle Dykes At Grand Ole Opry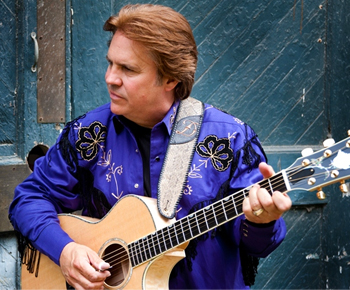 Born in May of 1954 in Jacksonville, Florida, Doyle Dykes uses a mixture of country, folk, blues and Christian sounds in his music. Growing up in a Christian community definitely has had an influence on his music, and his biggest inspiration as a guitarist came from a sailor named Barry Lackey, whom Dykes watched use a technique called "spider picking," like Chet Akins and Merle Travis. Since receiving instruction from Lackey, Dykes has moved on to perform with The Stamps Quartet and Grand Ole Opry star Grandpa Jones. Although Dykes has become a world-renowned guitarist since then and has returned to play on the Grand Ole Opry stage numerous times, he still makes time to play church venues with small audiences.
Throughout his career, Dykes has released eight albums from 1996 to 2008. Some of his most popular songs off of those albums have included "Jazz in the Box," "Nothing's Too Good (For a Friend)," "Bridging the Gap" featuring Caleb Dykes, "Gitarre 2000" and "White Roses for Heidi."

Dykes is also a long-time endorser of the company Taylor Guitars. Owner Bob Taylor has stated that Dykes is the artist who most represents the brand and who has done the most for the company. Dykes helped to design a signature Rivera amplifier, the Sedona, which accommodates both electric and acoustic instruments. This and all his other signature instruments have helped to influence the instrument industry on a global basis.

Newsletter Signup
Signup to be notified when new dates are added:
Doyle Dykes has
no current dates
scheduled at Grand Ole Opry.
Click here
for complete schedule. Sign up for newsletter to be notified when dates are added.