Dixie Chicks At Grand Ole Opry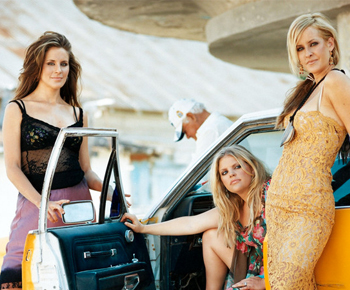 One of the most well-known and established names in female country music would be the thirteen-time Grammy-winning Dixie Chicks. Founded by Laura Lynch, Robin Lynn Macy and Martie and Emily Erwin in 1989, the Dixie Chicks strongly represent the bluegrass and country sounds in their long list of successful songs and albums. They recorded their first album, Thank Heavens for Dale Evans in 1990. In 1992, Macy left the band after their second album to focus on a "purer" bluegrass sound. In 1995, Lunch was replaced with singer Natalie Maines. The new lineup of the Dixie Chicks created a more contemporary sound and an updated look.
Over the next years, the band released a number of Top 10 hits, including "I Can Love You Better," "Tonight the Heartache's on Me," "Ready to Run" and "Cold Day in July." From 1997 to 2000, they charted at Number One five times, with singles like "There's Your Trouble," "Wide Open Spaces," "Cowboy Take Me Away" and "Without You." Their single "Goodbye Earl" narrowly missed the Top 10, but was certified Gold.
In the early to mid-2000s, their success continued with singles like "If I Fall You're Going Down with Me," "Some Days You Gotta Dance," "Long Time Gone," "Landslide" and Number One hit "Travelin' Soldier."
On top of twenty-one nominations and thirteen wins from the Grammy Awards, the Dixie Chicks have also won awards from the Academy of Country Music, the American Music Awards, the Billboard Music Awards, the Country Music Association Awards, the Juno Awards and the People's Choice Awards. They have been named Entertainer of the Year, Top Vocal Group of the Year, Favorite Country Band, Duo or Group, Country Artist of the Year and Favorite Musical Group or Band, among others. Their songs and albums have won them Album of the Year, Video of the Year, Favorite Country Album, International Album of the Year and more.

Newsletter Signup
Signup to be notified when new dates are added:
Dixie Chicks has
no current dates
scheduled at Grand Ole Opry.
Click here
for complete schedule. Sign up for newsletter to be notified when dates are added.