Dierks Bentley At Grand Ole Opry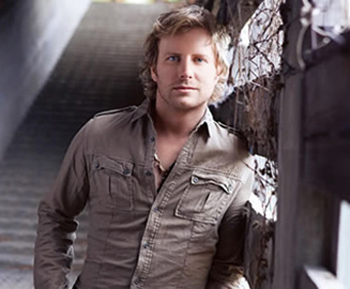 Born November 20, 1975 in Phoenix, Arizona, Dierks Bentley is one name that nearly every, if not all, country music fans recognize. With his country and bluegrass sound, Dierks has released seven studio albums with ten Number One singles, has won and been nominated for numerous awards, and has performed for cities across the country in a dozen tours. Bentley's musical career started after he began working for The Nashville Network, a channel that researched old footage of country performances. In 2003, his first, self-titled, album was released by Capitol Nashville. In 2005, he released his second album and was invited to become a member of the Grand Ole Opry in the same year. His induction took place on October 1, 2005. Bentley is now the third youngest member of the Grand Ole Opry, behind Carrie Underwood and Josh Turner.
Bentley's first album contained his first No. 1 hit "What Was I Thinkin'," as well as "My Last Name," which landed in the Top 20, and "How Am I Doin'," which claimed the No. 4 spot. The album was certified Platinum by the RIAA. After "What Was I Thinkin'," Bentley released nine other Number One songs, including "Come a Little Closer," "Settle for a Slowdown," "Free and Easy (Down the Road I Go)," "Feel That Fire," "Am I the Only One" and "Home." Not only has he had a number of No. 1 hits, but Bentley has also had four other singles reach the Top 5.
Bentley has won four awards since 2004, including the CMT Music Awards' Breakthrough Artist of the Year and Performance of the Year for the song "Country Boy," the Academy of Country Music's Top New Artist award, and the CMA's Horizon Award. He has also been nominated for Grammys several times, for awards like Best Country Song and Album, Best Male country Vocal Performance and Best Country Collaboration with Vocals.
With a busy touring season almost every year, the Grand Ole Opry took a unique approach to Bentley's invitation. While on tour in Los Angeles at the House of Blues, Opry member Marty Stuart interrupted his performance to extend the invitation, asking "Will you do it…will you marry the Grand Ole Opry?" Dierks could only reply with a "Hell yeah," before struggling to get through his next song. He claimed, "This is the greatest night of my life. Thanks you guys for sharing this with me."
Newsletter Signup
Signup to be notified when new dates are added:
Upcoming Dates at Grand Ole Opry: