Dan Tyminski At Grand Ole Opry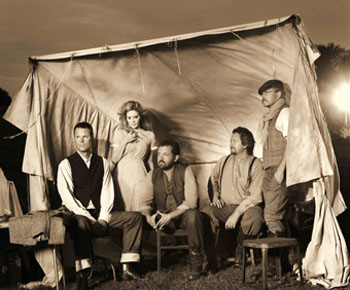 Born in 1967 in Rutland, Vermont, Dan Tyminski is a bluegrass singer and musician who has won ten Grammy awards and has been named as a key component of Alison Krauss and Union Station. Tyminski blends in his songs pop and bluegrass. He claims that his brighter Stan is the one who hooked him on the guitar and the mandolin at the very young age of six; while his brother was in the Navy, he left his mandolin with Dan. In high school, Dan and Stan formed the group Green Mountain Bluegrass, in which Dan played banjo. When he turned twenty-one, in 1994, he was hired to play mandolin and sing in the group the Lonesome River Band. He stayed with them for around five years.
While in the Lonesome River Band, he received a call from Alison Krauss, who invited him to play in Union Station. He has also released two solo albums, Carry Me Across the Mountain and Wheels. His song "Man of Constant Sorrow" was featured in the film O Brother, Where Art Thou? and also was named the 2001 Best Single at the CMA Awards. It also gifted him a Grammy Award for Best Country Collaboration with Vocals, with Harry Allen and Pat Enright. In addition to those awards, Tyminski has ten Grammy awards to his name.
Tyminski has also been named Male Vocalist of the Year by the IBMA for three consecutive years from 2001 to 2003. He was also named, by the Society for the Preservation of Bluegrass Music in America, the Male Vocalist of the Year in 2004.

Newsletter Signup
Signup to be notified when new dates are added:
Dan Tyminski has
no current dates
scheduled at Grand Ole Opry.
Click here
for complete schedule. Sign up for newsletter to be notified when dates are added.