Crystal Gayle At Grand Ole Opry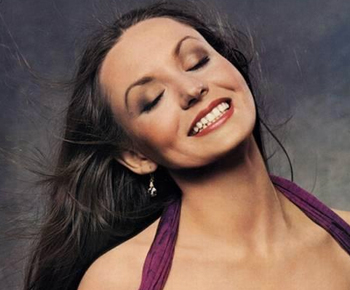 Crystal Gayle is a country star who brought mainstream appeal to country music in the 1970s and '80s. Born Brenda Gail Webb in the small Appalachian coal town Paintsville, Kentucky, she started singing at a very young age but was shy and reluctant to take the spotlight. That shyness didn't last long. As a teen, Gayle toured for a few weeks each summer with her older sister, country superstar Loretta Lynn. Later she was renamed Crystal Gayle, recording her own music and stepping out of Loretta's shadow. Crystal Gayle's breakthrough hit, "Don't It Make My Brown Eyes Blue" became very popular outside country circles as well, and many other hits followed. Gayle has 20 No. 1 hits to her name, including "Talking in Your Sleep," "Why Have You Left the One You Left Me For," "Turning Away," and "Our Love is on the Faultline." Her album We Must Believe in Magic was the first album by a female country artist to be certified platinum. Gayle has toured worldwide and was the first artist to record a performance on the Great Wall of China. In her later career, Gayle branched out even further and recorded gospel, children's music, standards, and a tribute album for the composer Hoagy Carmichael.
Crystal Gayle has received many awards and accolades. "Don't It Make My Brown Eyes Blue" won a Grammy for Best Female Vocal Performance. Gayle has her own star on the Hollywood Walk of Fame. In 1983, famouse for her nearly floor-length hair, Gayle was voted one of the 50 most beautiful people in the world by People Magazine. She has won the CMA Award for Female Vocalist of the Year twice, as well as a total of eight top awards from the Academy of Country Music and American Music Awards. Gayle has been inducted into the Kentucky Music Hall of Fame and the Native American Hall of Fame.
Newsletter Signup
Signup to be notified when new dates are added:
Crystal Gayle has
no current dates
scheduled at Grand Ole Opry.
Click here
for complete schedule. Sign up for newsletter to be notified when dates are added.