Collin Raye At Grand Ole Opry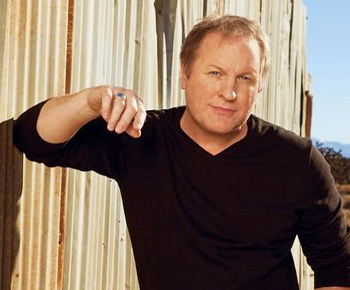 Country artist Collin Raye, born August 22, 1960 in De Queen, Arkansas, is the son of Lois Wray, the opening act for artists like Jerry Lee Lewis, Elvis Presley, Johnny Cash and Carl Perkins. Collin, as a child, regularly sang on stage with his mother and his brother. By the 80s, he and his brother, Scott, formed the Wray Brothers Band, for which Collin used the stage name Bubba Wray. Together, the band performed throughout Texas, then into Reno, Nevada. In 1986, they signed with Mercury Records as The Wrays, before disbanding. Collin then changed the spelling of his last name to "Raye" and became a solo artist under Epic Records in 1990.
Throughout his career as a solo artist, Raye has released eleven studio albums and more than thirty-five singles, four of which have reached the Number One spot on the charts. He reached Number One first in 1991 with his single "Love, Me." The following year, he charted on top again with "In This Life." Twice more he soared to Number One with "My Kind of Girl" and "I Can Still Feel You."
In 1995, Raye's video for "I Think about You" won the Academy of Country Music's Video of the Year award.
Raye is most well-known for songs like "Love, Me" and "In This Life," which feature a country pop ballad style. He also discusses social issues in his lyrics; his song "Little Rock" tells a story of a recovering alcoholic. In "The Eleventh Commandment," he covers the issue of child abuse.

Newsletter Signup
Signup to be notified when new dates are added:
Collin Raye has
no current dates
scheduled at Grand Ole Opry.
Click here
for complete schedule. Sign up for newsletter to be notified when dates are added.