Chris Hillman & Herb Pedersen At Grand Ole Opry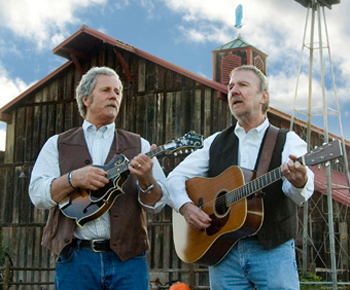 Chris Hillman, born in 1944 in Los Angeles, and Herb Pedersen, born the same year in Berkeley, joined together to create music in bluegrass and country songs in the early 80s. Soon after they worked as a duo, they formed the Desert Rose Band, releasing two Top 10 country hits, "Love Reunited" and "One Step Forward," as well as the Number One single "He's Back and I'm Blue." For six years, from 1987 until 1993, they recorded seven albums and released sixteen country-music hits. After winning a number of awards from the Academy of Country Music, they disbanded in 1994.
Hillman is an inductee in the Rock 'n' Roll Hall of Fame. He plays the guitar and the mandolin and dabbles in everything music, from bluegrass to jazz. He has been a member not only in the Desert Rose Band but also in The Byrds and The Flying Burrito Brothers. The banjo-picking singer Pedersen has worked with Johnny Rivers, Dan Fogelberg, James Taylor, and many other popular artists. Together, they mix in honky-tonk, rock 'n' roll, bluegrass, Tex-Mex and Cajun sounds in their music.
The Desert Rose Band has released other popular singles like "Summer Wind," "I Still Believe in You," "She Don't Love Nobody," "Start All Over Again," "In Another Lifetime" and "Story of Love." The band joined back together for a reunion concert in August of 2008.
Hillman and Pedersen have been friends since they were teenagers and have been making music for four decades, making them both California country rock and bluegrass legends.
Newsletter Signup
Signup to be notified when new dates are added:
Chris Hillman & Herb Pedersen has
no current dates
scheduled at Grand Ole Opry.
Click here
for complete schedule. Sign up for newsletter to be notified when dates are added.