Chely Wright At Grand Ole Opry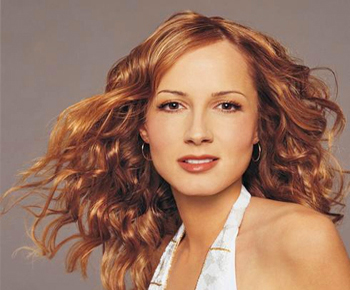 Growing up in a musical family, singer/songwriter Chely Wright knew from a very young ago that she was destined to be a country music performer. As a toddler, Wright loved to sit on her great-grandmother's lap to rest her own hands on her grandmother's as she played piano. During her senior year of high school, Wright worked as a performing musician in the Ozark Jubilee, a country music show in Branson, Missouri. Then Wright moved to Nashville, performing in a musical show at the now-closed theme park Opryland USA.
In 1993, she got her big break with a recording contract with Mercury/Polygram. Subsequently, her first album, Woman in the Moon, was released the next year. Songs written by Wright have been performed by Brad Paisley, Richard Marx, Clay Walker, the Indigo Girls, and Mindy Smith. Her first Top 20 hit "Shut Up and Drive" didn't come until the release of her third album, Let Me In. Wright's fourth album, Single White Female, was her breakout hit. The album is certified gold and its title track became a No. 1 hit. Many of her other songs achieved heavy play on country radio: "The Bumper of my SUV," "Shut Up and Drive," and "The Back of the Bottom Drawer."
Her seventh album, Lifted Off the Ground, was released in the wake of the public announcement that she was a lesbian. The album, which was completely written by Wright except for one song, reveals an artist who has undergone a dramatic transformation. After remaining secretly in the closet her entire career and dating men, Wright admits that she finally come out to relieve herself of the burden the secret was causing her.
In 2011, a documentary about Wright, Wish Me Away, and Wright's memoir Like Me were released, both focusing on Wright's life as a closet lesbian. Wright became the first major country star to come out as gay. She founded a charity group, the Like Me Organization, dedicated to providing resources to LGBT individuals and their friends and families, as well as preventing LGBT bullying and teen suicide. Wright also founded a charity that promotes musical education in schools and provides instruments, called Reading, Writing, and Rhythm.
Newsletter Signup
Signup to be notified when new dates are added:
Chely Wright has
no current dates
scheduled at Grand Ole Opry.
Click here
for complete schedule. Sign up for newsletter to be notified when dates are added.