Carolina Rain At Grand Ole Opry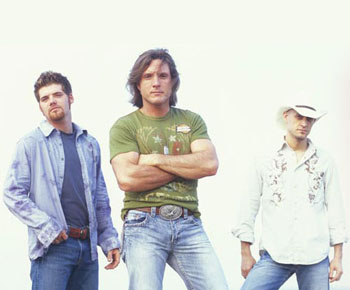 Grand Ole Opry artist Carolina Rain was founded in 2003 by Jeremy Baxter (tenor vocals and the mandolin), Rhean Boyer (lead vocals and the guitar) and Marvin Evatt (baritone vocals, the guitar and the banjo). They were signed in 2004 with Equity Music Group; they were the first act signed onto the independent record label, which is owned by fellow country music artist Clint Black.
Carolina Rain has released one studio album, Weather the Storm, in 2006. The album peaked on the U.S. Country charts at Number Sixty. On it, their debut single "I Ain't Scared" reached Number Forty-One on the Hot Country Songs chart. "Louisiana Love" and "Let's Get It On" are two additional singles released by the band, though neither was included on an album. "Let's Get It On" reached the Top 60 on the charts. "Get Outta My Way" became the group's first Top 40 country hit, peaking at Number Twenty-Eight. Also on Weather the Storm were singles "Isn't She," which reached Number Twenty-Six, and "Dealin'."
In 2008, the band released their single "American Radio," which reached Number Fifty-Three on the charts and was planned to be the lead-off to their second album, which would hold the same name. "Weight of the World" was another single released by the band before Equity Music Group closed in December of 2008.
Band members Baxter, Boyer and Evatt appear to have no similarities on the outside, coming from a range of backgrounds; one from a Tennessee bluegrass-gospel family band, one from a classically-trained South Carolina background, and one that was Broadway-bound. However, when the three are singing together, it is clear that they are blood brothers. Rhean states, "When I went to the Country Music Hall of Fame for the first time ever, I stood right in the middle of the rotunda, looking all around and thinking about everything that we've been through. I was thinking, 'I can't imagine not doing this music.' It just tore me up, and I broke down."
Newsletter Signup
Signup to be notified when new dates are added:
Carolina Rain has
no current dates
scheduled at Grand Ole Opry.
Click here
for complete schedule. Sign up for newsletter to be notified when dates are added.