Brett Eldredge At Grand Ole Opry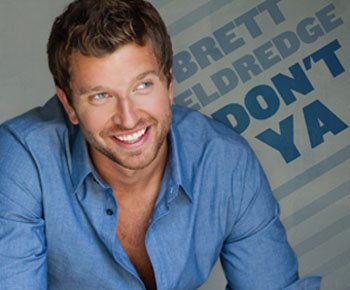 Brett Eldredge, a native of Paris, Illinois, realized his dream of performing country music when his cousin Terry Eldredge, who now plays with the Grascals, invited him onstage to sing a song with his band the Sidemen. After those few moments onstage, Eldredge devoted himself to songwriting and singing. His goal is to write songs that reflect his life as well as the lives of others by telling stories that touch peoples' hearts. Eldredge's songwriting skills and warm baritone have already endeared him to country audiences.
Eldredge's first single, "Raymond," about an Alzheimer's patient and the nursing home employee she mistakes for her son, peaked at No. 23 on country charts. "It Ain't Gotta Be Love" reached No. 46. Brett Eldredge also co-wrote "I Think I've Had Enough" for Gary Allan. Eldredge also has his own webseries, "Couch Sessions," where he plays covers and acoustic versions of his own songs. He made his Grand Ole Opry debut in October 2009.
Newsletter Signup
Signup to be notified when new dates are added:
Brett Eldredge has
no current dates
scheduled at Grand Ole Opry.
Click here
for complete schedule. Sign up for newsletter to be notified when dates are added.