Brenda Lee At Grand Ole Opry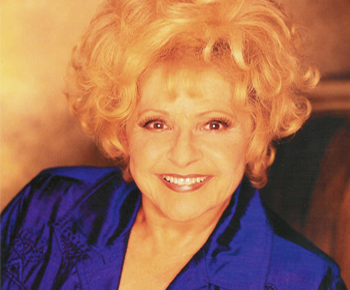 Born in December of 1944 in Atlanta, Georgia country artist Brenda Lee has charted over thirty times with singles displaying her sound of pop, country and rockabilly. Standing only at four feet and nine inches tall, Lee has been dubbed "Little Miss Dynamite," after the release of her song "Dynamite." She also became one of the earliest pop stars to have a major contemporary international following. Lee began singing in her Baptist Church, and moved on to become a child performer when she was five years old.
When Lee was six, she won a local singing contest, sponsored by local elementary schools. Her reward was a live appearance on Starmakers Revue, a radio show in Atlanta. She performed there for the next year. By the time she turned ten, she became the primary breadwinner of her family after her father's death, by singing at events and on local radio and television shows. She appeared regularly on "TV Ranch," a country music show. She made her network debut on Ozark Jubilee in Springfield, Missouri and less than two months later she was offered a contract by Decca Records.
Lee's success came on strong in the late 1950s through the mid-60s, with "Jambalaya," "Sweet Nothin's," "I Want to Be Wanted," "All Alone Am I," "Fool No. 1," "That's All You Gotta Do," "You Can Depend on Me," and "Break It to Me Gently," among others. Her signature song, "I'm Sorry," hit Number One on the pop chart in 1960. The single went on to be certified Gold and was nominated for a Grammy.
Early in Lee's career, she became popular in the United Kingdom. Before her popularity soared in the states, she toured the U.K. and had several hits there.
In 1997, Lee was inducted into the Country Music Hall of Fame. In 2002, she became a member of the Rock and Roll Hall of Fame. The following year, she released her autobiography Little Miss Dynamite: The Life and Times of Brenda Lee.
Newsletter Signup
Signup to be notified when new dates are added:
Brenda Lee has
no current dates
scheduled at Grand Ole Opry.
Click here
for complete schedule. Sign up for newsletter to be notified when dates are added.