Blue Sky Riders At Grand Ole Opry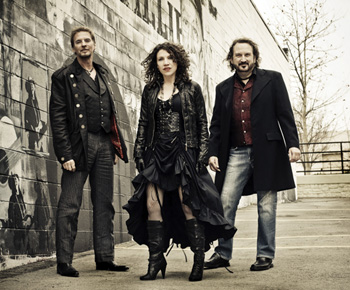 Grammy award-winning Kenny Loggins is back again, this time with his talented co-musicians Georgia Middleman and Gary Burr in the band Blue Sky Riders. Loggins met up with Burr while writing for "How About Now," his 2008 release. He was amazed how well their voices blended together, claiming that he hadn't felt that way since he was singing with Jimmy Messina, with whom his musical career first took off in the 70s. After they first worked together, Loggins called Burr and asked if he wanted to form a band together; then, he suggested they find a female voice.
That female voice was Georgia Middleman, Burr claimed. Burr had worked with Middleman before, and stated that she was the best he had ever worked with. So, they moved to Nashville and started writing.
Blue Sky Riders' debut album featured songs like "I'm a Rider (Finally Home)," "Feelin' Brave," "Another Spring," "I Get It," "A Thousand Wild Horses," "Windeer Woman," "You Took the Words (Right Outta My Mouth)" and "How About Now." They have also released an Extended Play, entitled Live at the Rutledge, which featured three songs, also including "I'm a Rider (Finally Home)."
Newsletter Signup
Signup to be notified when new dates are added:
Blue Sky Riders has
no current dates
scheduled at Grand Ole Opry.
Click here
for complete schedule. Sign up for newsletter to be notified when dates are added.