Big & Rich At Grand Ole Opry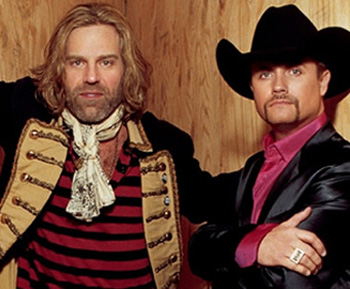 Country music duo Big Kenny and John Rich have been entertaining crowds since the late 90s. John Rich was one of the founding members of the band Texassee (later Lonestar). He played guitar in the band and sang lead vocals with Richie McDonald. Kenny "Big Kenny" Alphin was signed to Hollywood Records in 1998. After Rich was fired from his band and Big Kenny's first album never got recorded, the two met at a club and began writing songs together. Their first collaboration was on the song "I Pray for You" in 1998. The two have also written songs like "Amarillo Sky" and "She's a Butterfly." Manager Marc Oswald suggested that the two begin recording for themselves. Rich was worried that he was "too rock for country" and was worried that the major recording companies would be deterred from Big Kenny's rock influences. But after they recorded a demo of "Holy Water," Rich became convinced that they would do well together and they were then signed to Warner Bros. Records Nashville.
The duo have one No.1 single in their career, "Lost in This Moment," which reached Gold status. Their single, "Save a Horse (Ride a Cowboy)," reached Platinum status in the U.S. as well, and No. 11 on the charts. Many of their songs also were in the Top 20, like "Big Time," "8th of November" and "Holy Water." Their first song to reach the charts was "Wild West Show" in 2003.
"Save a Horse" was used as the theme music for ESPN's World Series of Poker. Their song "Comin' to Your City" also was picked up by ESPN for their Saturday program College GameDay. They performed their song "Rollin' (The Ballad of Big & Rich)" at the CMA awards telecast, where they were nominated for the Horizon Award. In 2012, the two were nominated for the CMA Awards' Vocal Duo of the Year award.
2008 marked the beginning of a hiatus of the duo. Big Kenny was recovering from a neck injury and needed time off. In the meantime, Rich released a solo album, with his partner's blessing. The album Son of a Preacher Man was released in 2009, with three singles, including the Number Twelve country hit "Shuttin' Detroit Down." Big Kenny released his own album later that year. They reunited in 2010 for the song "Fake I.D.," prepared for the soundtrack for the film Footloose. In 2012, they announced their release for their fourth studio album, Hillbilly Jedi, which contains the single "That's Why I Pray."
Newsletter Signup
Signup to be notified when new dates are added:
Big & Rich has
no current dates
scheduled at Grand Ole Opry.
Click here
for complete schedule. Sign up for newsletter to be notified when dates are added.