Bellamy Brothers At Grand Ole Opry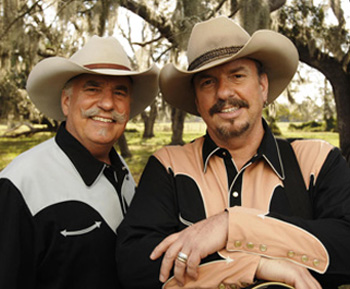 Brothers David and Howard Bellamy, born four years apart in Pasco County, Florida, joined together as kids to perform country music. They were inspired by a variety of sources: the country music their father played in the house, the Western swing sounds of their father's local band, and the rock and roll they learned from their sister. The two learned to play the guitar, the mandolin and the banjo. David, the older of the two, also picked up the accordion, the fiddle, the organ and the piano. David and Howard performed with their dad at a benefit concert in 1968, their first gig. Afterward, they moved to Atlanta and formed their first band, Jericho. After moving back home a short time later, they were discovered by recording artist Jim Stafford. "Spiders and Snakes," written by David Bellamy and performed by Stafford, became a Top 5 hit and was the starting off point of the Bellamys' career. With the money they received from the song's success, they moved to LA, where they were able to sign a contract with Curb Records.
Their first duo song was the single "Let Your Love Flow," which became a Number One single on U.S. pop charts in 1976. It wasn't until three years later that they began their climb to fame in country music, however, with their Number One country song "If I Said You Had a Beautiful Body Would You Hold It Against Me." The 1980s and 90s gave them a good run with "Redneck Girl," "Santa Fe," "Old Hippie," and "Kids of the Baby Boom."
Around that time, they were named the Top Country Duo by Billboard and set the record for the highest number of nominations for duo performances from the Academy of Country Music and the Country Music Association. In 1982, the duo was also given a Lifetime Membership in the Federation of International Country Air Personalities.
The Bellamy Brothers have released just under thirty studio albums, as well as nineteen compilation albums. They have eleven Number One singles, including "If I Said You Had a Beautiful Body," "Sugar Daddy," "Dancin' Cowboys," "Do You Love as Good as You Look," "For All the Wrong Reasons," "When I'm Away from You" and "Too Much Is Not Enough."
Newsletter Signup
Signup to be notified when new dates are added:
Bellamy Brothers has
no current dates
scheduled at Grand Ole Opry.
Click here
for complete schedule. Sign up for newsletter to be notified when dates are added.