Barry Gibb At Grand Ole Opry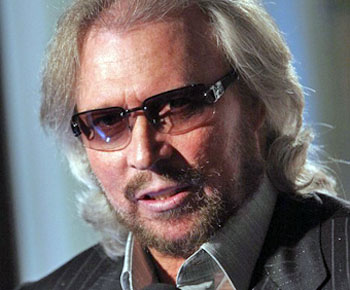 Born September 1, 1946 in the Isle of Man in the United Kingdom, Barry Gibb is a rock, pop, disco and country artist that has been entertaining for decades. When he was twelve, he and his family moved to Brisbane, Australia, where he and his brothers, Robin and Maurice, started the band, the Bee Gees. When his family returned to England in 1967, the Bee Gees became international stars. For over a decade, the brothers toured and performed together on numerous albums. In the late 70s, Barry began recording demos for Barbra Streisand and began singing and playing background in his brother Andy's album. In the 1980s, he was signed to MCA Records for North America for a few million dollars on a multi-album deal. In 2012, he made his debut performance at the Grand Ole Opry.
In 1980, Gibb produced Barbra Streisand's album Guilty. The album featured the title track and "What Kind of Fool," both of which were released as singles and featured a lead vocal by both Streisand and Gibb. In '82, he produced Dionne Warwick's Heartbreaker album and, in '83, he produced Eyes That See in the Dark for Kenny Rogers.
In 1983, he signed for the multi-album deal with MCA, but only released one album, New Voyager, in '84. The album contained the single "Shine, Shine," which peaked at Number Thirty-Four in the United States and Number Ten in the U.S. Adult Contemporary Charts. The album also included the single "Fine Line." Two years later, Gibb recorded an album that, though was not released, contained several songs that appeared on the soundtrack for Hawks, Moonlight Madness.
In the 2000s and 2010s, Gibb has stayed active, appearing as a mentor on American Idol, writing songs for films and theme music, teaming up with Olivia Newton-John for the one-hour finale performance of Sydney's Sydney Cricket Ground, and performing his first ever solo concert in the States at the Seminole Hard Rock Cafe in Florida. In July of 2009, he was made a Freeman of the Borough of Douglas (Isle of Man). The award has also been bestowed upon his brother Robin and posthumously his brother Maurice. On July 27, 2012, he made his first appearance on the Grand Ole Opry stage, performing three songs.

Newsletter Signup
Signup to be notified when new dates are added:
Barry Gibb has
no current dates
scheduled at Grand Ole Opry.
Click here
for complete schedule. Sign up for newsletter to be notified when dates are added.