Asleep at the Wheel At Grand Ole Opry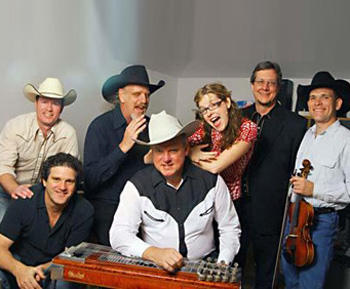 The country western swing sounds of Asleep at the Wheel have been entertaining audiences since 1970. The band first formed in Paw Paw, West Virginia by Ray Benson and Lucky Oceans. Soon after their inception, they began opening for acts like Alice Cooper and Hot Tuna. In 1970, they moved to East Oakland, California, were mentioned in an article in Rolling Stone and were signed on to the United Artists recording company. In 1974, they made a home in Austin, Texas at the request of singer Willie Nelson. Throughout the next few decades, Asleep at the Wheel would release award-winning albums and singles, gain and lose members, appear in films, switch recording companies, perform on the beloved Grand Ole Opry House stage, and become one of the strongest names in country music.
Their debut album came out in 1973 with an appropriate title in Comin' Right At Ya. Their first single to reach the country charts, however, was on their second, self-titled, album, "Choo Choo Ch'Boogie." They reached the Top 10 with "The Letter That Johnny Walker Read" the following year. From the birth of the band in 1970 to today, Asleep at the Wheel have had many more songs hit the country charts, including "Bump, Bounce, Boogie," "House of Blue Lights," "Nothin' Takes the Place of You," "Hot Rod Lincoln," "(Get Your Kicks) On Route 66," "Miles and Miles of Texas" and "Way Down Texas Way."
In 1977, Asleep at the Wheel was named Best Country Western Band by Rolling Stone Magazine and Touring Band of the Year by the Academy of Country Music. They have also won nine Grammy Awards throughout the decades, including those for Best Country Instrumental three times and Best Package Design. In 2007, they were named Band of the Year and Best Country Band by the Austin Chronicle. They were also inducted into both the Austin Chronicle's Hall of Fame. In 2002, they were invited into the Austin Music Hall of Fame. Other awards the band has received include the Texas Music Association's Lifetime Achievement Award, recognition as an Outstanding Producer by the National Academy of Recording Arts, and the 16th Annual Midsouth Regional Emmy Award for the making of "A Ride With Bob," a musical dedicated to Bob Wills.
Asleep at the Wheel has released thirty albums since 1973's Comin Right at Ya. They have had over thirty members come and go from their band, have acquired numerous awards and have had members recognized as big names in the country music industry. Co-founder Ray Benson and his band have become, since their creation, one of the most prominent names over the last forty years.
Newsletter Signup
Signup to be notified when new dates are added:
Asleep at the Wheel has
no current dates
scheduled at Grand Ole Opry.
Click here
for complete schedule. Sign up for newsletter to be notified when dates are added.