Annie Moses Band At Grand Ole Opry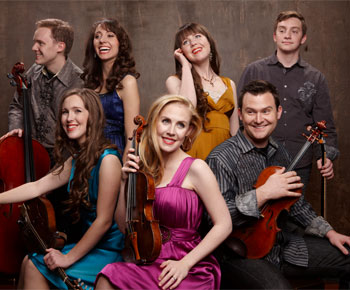 Though the Annie Moses Band was officially formed in 2002, the performers are all siblings who have been singing and playing together since they were young children. The Wolavers played their first performance when the eldest, Annie, was just nine years old. When Annie was fifteen, the Wolavers moved to New York City, where she and her brothers Alex and Benjamin were accepted into the pre-college division of Julliard. There, the three fell in love with the idea of creating a music group that combined a spiritual message with musical excellence. When it came time to choose the name of their band, they remembered their great-grandmother, Annie Moses.
After spending three years at Julliard, the Wolavers moved home to Nashville and have been performing as the Annie Moses Band ever since. Annie performs as the vocalist and violinist, while Alex plays the viola and Benjamin plays the cello. They have since been joined by their sisters Camille (on harp and piano) and Gretchen (on mandolin and violin).
The band of siblings has released several albums, including Pilgrims & Prodigals, which features songs like "Catcher in the Rye," "Progress," "Read Between the Lies," "My Room" and "Blush," all of which encompassing message of hope among hopelessness, faith among despair and joy among sorrow.
Newsletter Signup
Signup to be notified when new dates are added:
Annie Moses Band has
no current dates
scheduled at Grand Ole Opry.
Click here
for complete schedule. Sign up for newsletter to be notified when dates are added.