American Young At Grand Ole Opry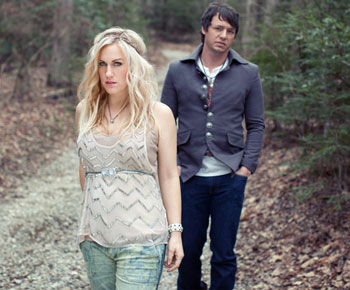 American Young is a duo formed by country artists Jon Stone and Kristy Osmunson, who have a passion for music and its meaning. As artists, songwriters, producers, and entertainers, Jon and Kristy say that recording and writing comes from a deep, poignant place with a desire to affect global audiences with songs featuring tight harmonies and storytelling.
Both artists have been in Nashville and explore their country music options before. Jon then attempted a solo act, then he was a successful produce and songwriter, working on songs like "Me and My Gang" and "A Woman Like You." Kristy was a founding member and sizzling fiddle player of the duo Bomshel. Now, the two form a duo with absolutely country music with arrangements and instrumentation that brings their compelling lyrics and effortless vocals to the foreground. American Young isn't content to let their audience be passive listeners.
The duo has an earthy, organic, and authentic sound that has developed naturally, and their contrasting personalities make a dynamic duo on stage, especially when performing their single "Love Is War"!
Newsletter Signup
Signup to be notified when new dates are added:
American Young has
no current dates
scheduled at Grand Ole Opry.
Click here
for complete schedule. Sign up for newsletter to be notified when dates are added.