Alabama At Grand Ole Opry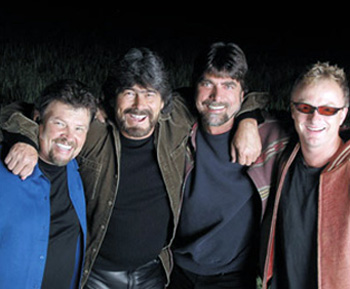 If you are a country music fan, then you have undoubtedly heard of the band Alabama. This group spent decades creating incredible music that intermingled the southern sounds of country and rock and roll. Cousins Randy Owen and Teddy Gentry started playing music together in their hometown, Fort Payne, Alabama, in 1969. A high school talent contest brought them their first recognition; their rendition of Merle Haggard's "Sing Me Back Home" won them the $500 cash prize and a trip to the Grand Ole Opry.
After taking a break so that Owen and Cook could gain an education, they reunited in 1972 under the name "Wildcountry." Afterwards, they began playing at The Bowery in Myrtle Beach, South Carolina, where they picked up drummer Mark Herndon. Later, they opened for the Doobie Brothers, an experience that encouraged them to work on a single album. The pair was joined by Jeff Cook, and the trio paid their dues working for tips as the house band at The Bowery in Myrtle Beach. In 1977, the group signed a recording contract with GRT, changed their name to Alabama, and commenced making country music history.
Alabama has made 21 gold, platinum, or multi-platinum albums and 43 No. 1 singles, more than any other country band. Alabama were hugely influential on modern country music. They were one of the first country groups to pursue youth audiences; previously country was seen as a more "mature" genre. The band's sound ranges from big, boot-stomping rock-tinged anthems to slower ballads, and their energetic performances and blue-collar vibe endeared them to a diverse audience. Their first hit, 'Tennessee River," was followed by a record-breaking string of 21 consecutive No. 1 hits. Alabama's biggest hits include "Song of the South," "High Cotton," "If You're Gonna Play In Texas (You Gotta Have a Fiddle in the Band)," and "Mountain Music." They had a grand total of 34 No. 1 hits from 1980 on.
Alabama has received 150 industry awards. Their many accolades include 2 Grammy Awards, 8 Entertainer of the Year awards from country organizations, 2 Peoples' Choice Awards, and a star on the Hollywood Walk of Fame.
ACM declared Alabama Artist of the Decade in 1989.
Alabama's "Farewell Tour" took place in 2003 and 2004. They may have ceased touring, but
they have since then released two albums that are filled with songs written to inspire.
The band was inducted into the Country Music Hall of Fame in 2005.
After over three decades of country music, it can be said that it was because of Alabama that music groups began rising in the country mainstream.
Newsletter Signup
Signup to be notified when new dates are added:
Alabama has
no current dates
scheduled at Grand Ole Opry.
Click here
for complete schedule. Sign up for newsletter to be notified when dates are added.