Adventures in Napa Valley, CA
From segway wine tours to a walking tour through Fort Ross State Historic Park, there are plenty of adventures to be had in Napa Valley, CA. You do not want to miss out!

Start your day with 20 minutes of Segway training; once you feel comfortable on the Segway you will be using them to tour either Dry Creek Valley or Russian River Valley.
Available 92 days between Aug 1, 2018 & Dec 18, 2018
View Schedule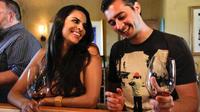 If a person loves wine, then taking the Napa Valley Bike and Wine Tour is going to be something they will truly love, as they travel through the beautiful scenery and get to taste some wonderful wine along the way.
I absolutely love the kayak adventure along Jenner Coast because the guide taught me so much about the area and when we paddled out to Penny Island I got to see my first seal!
We wanted everyone to know that our professional tour guide of Napa have the kind of knowledge that only a few people have now a days. This package includes lots of things from kayaks, life jackets, and paddles for people at any age and experience. Also, this tour is located near downtown Napa and the staff is knowledgeable. The tour is about 1 to 2 hours long. The price of this tour is incredible since we want our customers to learn about history. The tour guide will show us the importance of world history. I do not want to say too much about the adventure that will happen through the wildlife. However, we will be looking at birds and rare animals. Also, we will learn about the Native Americans and describe the places in Napa Valley. Lastly, we will cover some of the more important topics like culture, buildings, and the damage of the Napa earthquake.
Jul 28
8:30 AM
11:00 AM
1:30 PM
Jul 29
8:30 AM
11:00 AM
1:30 PM
>
There is a chance for you to ride through the horseback town and see what it feels like to be a real cowboy and a cowgirl with your best friends filming as you have a blast during the holidays such as the 4th of July.
Available 312 days between Jul 23, 2018 & May 31, 2019
View Schedule
Jul 24
9:00 AM
12:00 PM
3:00 PM
Jul 25
9:00 AM
12:00 PM
3:00 PM
Jul 26
9:00 AM
12:00 PM
3:00 PM
Jul 29
9:00 AM
12:00 PM
3:00 PM
Jul 30
9:00 AM
12:00 PM
3:00 PM
>
You will relish in this self cycling tour of the Sonoma Adventures Area with this Hassle Free Bike Rental ideal for the casual rider or the mad hatter for the perfect exercise and views, call for pick up when you're done!
This family-oriented guided tour lasts approximately 5.5 hours. The guide will take the guests down the river in kayaks, showing them the natural wonder of nature. Guests will learn about the history of the area and also be served lunch.
Get exercise and enjoy the beautiful outdoors as well as the breathtaking unique views of local area winery's on a bike tour through the area; and even take a minute to taste and experience the wine flavors.