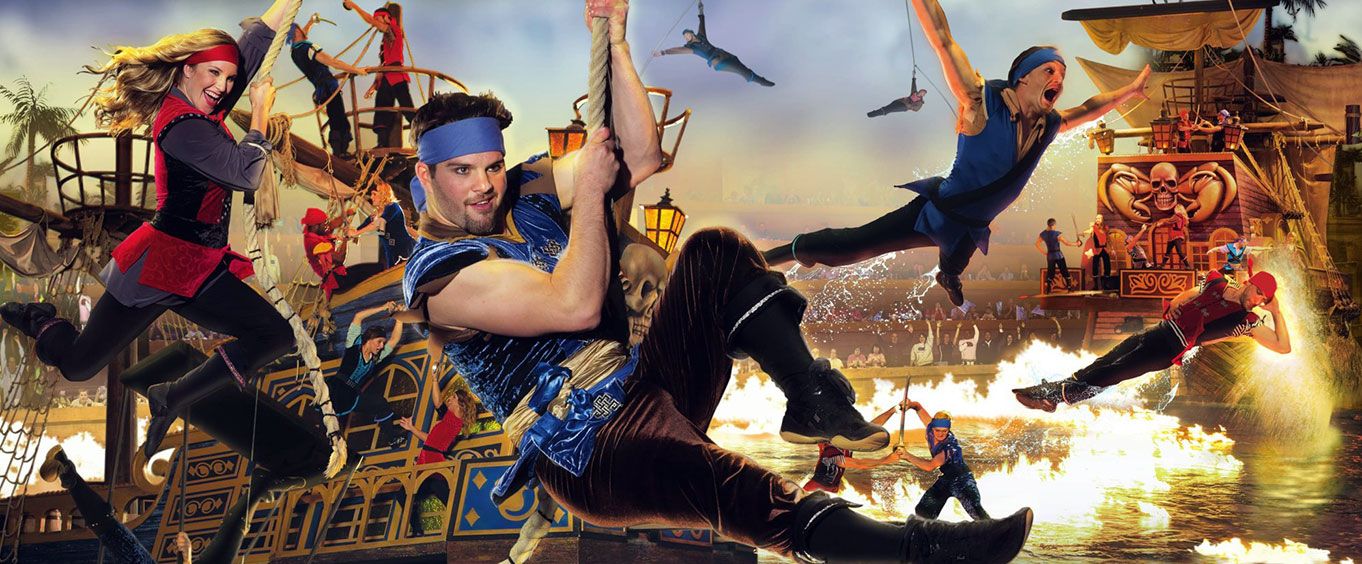 Pirate's Voyage in Myrtle Beach, SC
8907 N. Kings Hwy
Pirates' Voyage in Myrtle Beach, SC offers up some of the best entertainment on the coast, allowing for an unforgettable dinner and show that the entire family will enjoy.
Thousands upon thousands of guests see Pirates Voyage each year, and you can join in on all of the fun the next time you are in Myrtle Beach, SC! Step inside the expansive theater to uncover a pirate-themed world unlike any other. The theater was opened in 2011 and since then it has provided rousing performances that showcase stunts, acrobatics, and more. The theater also features a sparkling 750,000 gallon lagoon on which the pirate battles take place. There are also full-size ships, fantastic costumes, pyrotechnics, and a sound and lighting system that come together to produce an immersive and unforgettable experience.
Pre-Show Fun at Pirate's Village
Before the show, be sure to visit the Pirates Village area which allows guests of all ages to enjoy pirate-themed pre-show fun. Your little skallywags can dress up like pirates or mermaids, get their faces painted, sing along with sea songs, watch juggling, and even purchase snacks and drinks fit for Blackbeard himself.
About the Show
The show itself is astounding! Cheer on your favorite pirate crew, the Sapphire or Crimson crews, in a fantastic display of acrobatics, theatrics, and adventure all set to original music scores by Dolly Parton herself. The show also utilizes live animals and special effects! During the show, visitors will also be treated to a mouthwatering four-course meal. The meal features Voyager creamy vegetable soup, Buccaneer Bread, Half O'Roasted Cackler (chicken), and a sweet Apple O' Me Eye Pie to top it all off.
About the Onsite Gift Shop
Don't forget to visit the gift shop onsite before leaving! Snag yourself a fun pirate souvenir. Some of the things you will find in the gift shop include ceramics, toys, pirate hats, play swords, and other fun goods to help you remember your time at Pirates Voyage!
High-flying fun, pirate-themed adventure, and delicious food awaits you! Do not miss out on a fantastic time on the coast with this nationally-recognized theatrical experience. From the brilliant mind of Dolly Parton, the Queen of Country Music herself, Pirates Voyage truly captivates with its original music, aerial acts, pirate battles, and special effects! Bring the entire family along for an amazing and immersive experience that you will not soon forget.

By Date: