Myrtle Beach, SC Hotels with Indoor Pool
View all 25 Hotels with Indoor Pool
For fun the whole family will enjoy, book your Myrtle Beach accommodations to include an indoor pool. Whether you're teeing off at one of the many golf courses or watching the races at the NASCAR Speedway, you can relax poolside from the comfort of your hotel. Browse our selection today near so many great activities and shows in the sunny city of Myrtle Beach.

Myrtle Beach, SC Hotels with Indoor Pool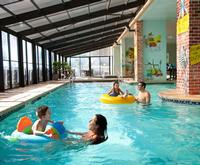 Rating:





Your family vacation won't be complete without a stay at the Carribean Resort and Villas, two miles near exciting attractions like the Marvelous Mirror Maze, Ripley's Aquarium and Legends in Concert. The family will thank you for this amazing stay with incredible indoor and outdoor water attractions for some real fun! Don't forget you and the family will also have direct entry to the beach where you can check out Myryle's Beach's Grand Strand. You'll have dining options like are the Sea Captains House, Skip Jacks Tiki Bar next to the pool and even a dessert option with Whitecaps Yogurt.
Indoor heated pool and hot tub with a separate kids pool available for small children is open from 9 AM to 10 PM daily.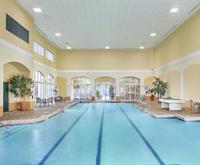 When looking for a hotel with an indoor pool, the Sheraton Broadway Plantation – All Villa Resort is the perfect choice. Located in Myrtle Beach, South Carolina, this resort offers indoor and outdoor pools as well as a hot tub, a kiddie pool and a lazy river. Other hotel amenities include free Wi-Fi, free parking, a poolside bar and grill plus business and fitness centers. The guest rooms feature premium bedding, fabulous views, microwaves, refrigerators and in-room coffee makers. Nearest attractions include Broadway at the Beach, Grand Strand Beaches and the Carolina Opry. Close restaurants include the Pirates Voyage Dinner & Show and Planet Hollywood.
Indoor pool is open from 10 AM to 10 PM daily.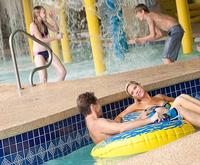 Rating:





Customer Rating:





Ocean Reef Resort offers comfortable, family-friendly accommodations at an affordable price in a convenient location. The resort boasts not only an indoor pool a water park and play area, kids' club, beach volleyball courts, DVD rentals, tickets to local attractions, and poolside bar to keep the entire family entertained. Rooms are bright and cheery spaces that offer complimentary WiFi, mini fridges, microwaves, and coffeemakers; suites and condos are also available, which provide kitchens and pull-out sofas. All of this is set just a few miles from the Myrtle Beach Boardwalk, which offers even more family fun.
Indoor heated pool and hot tub is open from 9 AM to 10 PM daily.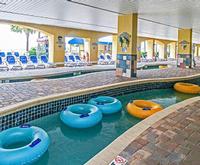 Rating:





Customer Rating:





My family and I loved our stay at the Camelot by the Sea. It was a pleasure to wake up open our balcony door and see and smell the ocean in the morning. Staff was always helpful and gave us great recommendations where to eat and what to do. They have a convenient mini market on the premises and the best of all is having the boardwalk at walking distance. So many things to do. The room had all necessities and personally loved the convenience of laundry and drying machine in the suite. TV had main cable channels and enough TVs for a family of 5 or 6. Parking was close and elevators close. Will definitely stay there again!
Cecilia Mendoza
Fishkill, NY
This themed resort is located right on Myrtle Beach. The Camelot by the Sea will treat you like royalty. Guests of The Camelot by the Sea can enjoy amenities like a business center, outdoor hot tub, a heated indoor pool, outdoor pool, a kiddie pool with its own fountain, laundry facilities, and a fitness club right on this oceanfront property. There are several restaurants to enjoy meals at such as the Bummz Beach Café, which conveniently located next to the hotel or try Lulu's Café or Magnolia's restaurant. Guests of The Camelot by the Sea looking for activities may want to visit the Medieval Times Dinner and Tournament or the Mt. Atlanticus miniature golf course.
Indoor pool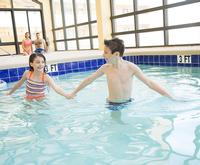 Rating:





Come on down to the Caravelle Resort while you enjoy your visit to Myrtle Beach SC. What better way to spend the afternoon at the beach than swimming in a gorgeous indoor pool to get some time away from sun while still enjoying the fun of a good swim. The Caravelle Resort features a heated indoor pool with all of the amenities, a resort spa and restaurants and bars that have everything you could possibly want or need. This hotel is the right choice for you and promises to never disappoint.
Indoor pool and hot tub is open from 7 AM to 11 PM daily.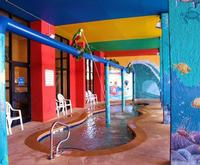 Rating:





Myrtle Beach, South Carolina is a popular vacation destination. Don't get overwhelmed by the wealth of options when it comes to picking the perfect place to stay while away from home. With free wi-fi internet access, complimentary breakfast, hot tubs and pools on-site, as well as a fitness center, a business center, a laundry center, and laundry services for those in a hurry, Monterey Bay Suites is the premiere destination for guests staying in or around the Myrtle Beach area.
Outdoor pool is open from 7 AM to 10 PM daily.
View all 25 Hotels with Indoor Pool