Myrtle Beach, SC Hotels with Hot Tubs or Whirlpools
View all 24 Hotels with Hot Tub / Whirlpool

Myrtle Beach, SC Hotels with Hot Tubs or Whirlpools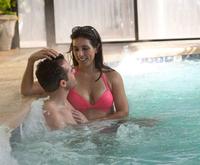 Rating:





Experience a great family friendly vacation spot at Caribbean Resort and Villas located in Myrtle Beach, SC is the place to stay while visiting Myrtle Beach. Just a few minutes away from fun family attractions, such as Oceanfront Waterpark, Ripley's Aquarium, Myrtle Beach Dolphin Sightseeing Cruises, and the very popular Pirates Voyage Dinner Show. This resort includes a beautiful sandy beach on property, outdoor and indoor pool, kiddie pool, spacious whirlpool hot tub to relax in, a stunning 200 foot outdoor lazy river, arcade room and fitness center.
Outdoor Hot Tub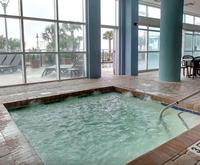 Rating:





Customer Rating:





The hotel i booked was exactly what i wanted and it was really amazing how beautiful the view was.
Shameka Fisher
Florence, SC
Bay View Resort has many amenities. There is an indoor pool, hot tub, fitness center, and free Internet access. Guests will find the facilities to be pleasing, and some might not want to leave their accommodations. The guest rooms include oceanfront views to four-bedroom condos. If guests leave their space at the hotel, they will find many attractions near. Some include the Ripley's Believe It or Not Museum, the Sky Wheel, and the Marvelous Mirror Museum. There are also many delicious restaurants near the resort. Guests visiting Myrtle Beach, South Carolina, will enjoy their stay at the Bay View Resort.
Indoor Hot Tub is open from 8 AM to 10 PM daily.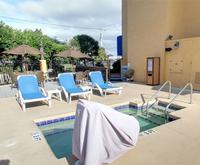 Rating:





The Aqua Beach Inn features a hot tub that guests can enjoy at any time of the day or in the evening. The hot tub is located indoors with a view of the indoor pool that is nearby. Windows allow guests to view the beach while they are soaking in the hot tub or while they are sitting on balconies of some of the rooms. Rooms feature new bedding and amenities including microwaves and refrigerators. Some rooms are designed as suites and feature a living area and kitchen.
Outdoor Hot Tub is open from 8 AM to 10 PM daily.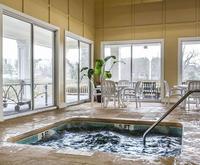 Bluegreen Vacations Harbour Lights in Myrtle Beach has an outdoor pool and outdoor whirlpool hot tub, and poolside bar. For those colder days, try the indoor pool and its whirlpool, and hot tub. Workout in the fitness center, play ping pong, table tennis, shuffleboard,or stop in the game room. Their rentals have porches, washer dryers, and kitchens with all appliances. Nearby guests can play a game of golf or visit Ripley's Aquarium, Myrtle Beach, or see a show. They have free parking and a business center for business guests.
Indoor Hot Tub is open from 8 AM to 10 PM daily.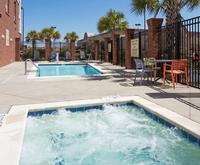 Enjoy a vacation full of fun in the sun at Myrtle Beach South Carolina this summer season. While enjoying all that this beautiful vacation spot has to offer make sure to stay at the Hilton Garden Inn at Myrtle Beach. This hotel not only has phenomenal views and is in a prime location but also offers a whirlpool hot tub for you to take a minute and relax while on vacation. You can never have too much relaxation and Hilton Garden Inn makes that their priority while you are a guest at their hotel. So come on down to Myrtle Beach and check in today.
Outdoor Hot Tub is open from 6 AM to 10 PM daily.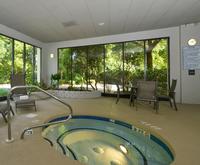 Hampton Inn Myrtle Beach - Northwood feels like an exclusive hotel. The hotel offers free hot style buffet breakfast, which is more than most hotels in Myrtle Beach offer. The hotel is located right along a beautiful driving range, the Cane Patch Par Three Driving Range. The hotel is located a few short blocks from the Atlantic Ocean. When the weather isn't cooperating or guests need a breather from the heat, Hampton Inn has one of the nicest indoor pools in the area, along with a hot tub. Hampton Inn is definitely the choice for hotels in Myrtle Beach.
Indoor Hot Tub is open from 9 AM to 10 PM daily.
View all 24 Hotels with Hot Tub / Whirlpool