Motor Vessel Cruises for Private Large Parties

Description
Motor Vessel Cruises for Private Large Parties Photos (1)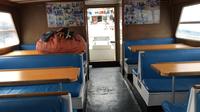 You will love our Motor Vessel Cruises for Large Private Parties. This journey is a two-hour excursion both couples and families will enjoy.
Both couples and families will love getting up close looking at the grey, blue, and humpback whales as they blow, or breach. In your motor vessel, you will get to see sea otters, dolphins, and the vocal sea lions in the beautiful area of the Pacific ocean.
You will be given a chance to take the helm and feel the exhilarating feeling of maneuvering the boat under sail.
For a more relaxed cruise, we suggest taking advantage of our captained cruise option. With this option, you and your guests can devote all their time and attention to the world's second largest sanctuary. Cruises are some of the safest, affordable, family adventures for all families!
Local conditions are usually always fantastic for these cruises with on average 345 days of excellent weather conditions for your voyage. Prevailing winds are generally moderate west to northwest and ranges from 8 to 15 knots.
Your pickup and return will be at Old Fisherman's Wharf in Monterey, California. Departure times are at 4 PM and 6 PM.
Pricing includes local taxes. Pricing does not include parking fees, entrance fees, food, and drinks, or any gratuities. Infant seats provided on request if the request made at the time of booking. Suggested dress code is sensible, causal, and warm clothing styles.
Marine mammals seen frequently include grey, blue and humpback whales who blow, or breach as they migrate with their calves. Sea otters, dolphin and vocal sea lions enjoy one of the most pristine areas of the entire Pacific. On cruises, all sailors are offered a chance to take the helm and discover the grace and beauty of a boat under sail.
Choose a captained cruise for a more relaxing voyage in the world's second largest marine sanctuary. Cruises are safe, affordable, family fun for all ages.

The local conditions are a great. Typically, 345 plus days of good to excellent conditions predominate annually. The prevailing west to northwest wind ranges predictably from 8-15 knots.


Pickup & Return:
Old Fisherman's Wharf, Monterey, California.
Same.
Departure Times: 4:00 PM - 6:00 PM

Includes:

Does not include:
The listed price does not include a $X parking fee, payable at the time of tour check-in.
Entrance fees
Food and drinks
Gratuities (recommended)

Additional Information:
Confirmation will be received at time of booking
Infant seats are available on request if advised at time of booking
Minimum drinking age is 21 years
Dress code is smart casual warm