Monterey Laguna Seca Two Day Formula Car Racing Program

Description
Monterey Laguna Seca Two Day Formula Car Racing Program Photos (1)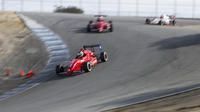 If you're looking for the formulas experience you will like this racing school. This is a seasonal adventure see you want to book quickly and early as it is also likely to sell a very fast. Racing is a very thrilling and exciting experience and if you are someone who likes driving then it will be a great time for you. It is run by a former Formula One world championship driver. This is the opportunity for you to learn how to drive of formula style car if you have no such experience. If you are ready to have experience then it will be a special time for you. This will be an exciting experience as you will go around one of the most technical tracks in the entire world. There is even one particular corner that will leave you speechless.
This will be a spectacular two-day experience for you. That means that if you are looking for the ability to learn how to drive and to truly put your skills to the test then this will be an amazing adventure. The Laguna Seca Speedway is really a great track and you will love going around it. You'll be going around in a Formula One stock-car which makes it even more impressive as well. There will be a lot of things that you will get to learn and it will be a lot of fun.
Now it is time for you to have fun and go around a track that's very technical and tight. If you're starting out then this is the perfect chance for you to really learn and get set up. You will learn advanced driving techniques and everything else you need to make sure you have all the tools you need to succeed as a racing car driver.
Run by former Formula One World Championship driver Allen Berg, ABRS uses state-of-the-art race cars to provide exceptional programs at the iconic Mazda Raceway Laguna Seca in Monterey CA. Whether you are starting a racing career, looking for a new adventure, honing your skills or seeking an unforgettable experience for your next corporate event, the Allen Berg Racing Schools team of professional instructors and proven curriculum will provide you with everything you need to be able to drive your race car to the limit.

Our premier program that is a combination of our One Day and Lapping / Advanced programs where you will gain comprehensive insight into professional race driving. We provide thorough classroom theory, advanced driving techniques and meticulous instruction, which ultimately results in driving our Formula racecars at their limits.
During this course we extensively utilize our on board data acquisition and Go-Pro video systems to analyze and interpret your data with you, to further improve and fine tune your driving performance.

At the end of this program drivers have developed an in depth understanding of racecar dynamics and aptitude in driving. Many of our two day grads with prior racing experience have gone to immediate success in various forms of racing.
Successful graduates of this program have the qualifications to apply for a Sports Car Club of America (SCCA) & Western Canada Motorsports Association (WCMA) Novice Road Racing License.

Pickup & Return:
Mazda Raceway Laguna Seca infield paddock.
Departure Times: 7:00 am - Optional Track Walk 8:15 am - Class Instruction Begins

Includes:
Personal instruction by former Formula One World Championship driver Allen Berg at every event.
Use of formula racecars with carbon fiber chassis
Racing slicks
GoPro cameras available to share your experience with friends and family
Data debriefing
Open lapping with passing allowed
Includes all drivers equipment, lunch and beverages

Does not include:
Gratuities (optional)
Transportation to/from attractions

Additional Information:
Confirmation will be received at time of booking
Minimum age is 18 years
Must hold drivers license and be able to proficiently drive a road car
Not recommended for participants with back problems
Operates in all weather conditions, please dress appropriately
Book Now!