Culinary Tours in Minneapolis, MN
A culinary tour is a great way to experience the flavors of a city. Embark on one of these adventures in Minneapolis, MN to try some fantastic local cuisine while learning about the area.

Minneapolis Most Popular Activities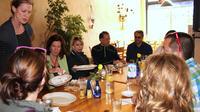 On this culinary tour of Northeast Minneapolis you will explore the Mississippi River and Chute Square. You will stop at six restaurants to taste sausage, pizza, Greek pastries, cheese, dumplings, and gelato while learning the history of the region
Available 51 days between Jun 28, 2018 & May 31, 2019
View Schedule
Indoor Minneapolis Skyway Food Tour is an excellent value for the money there will be an informative, friendly, and professional guide offering commentary throughout the event, the duration of the tour is about 3 hours, it is a family-friendly adventure.
Available 12 days between Jan 5, 2019 & Mar 23, 2019
View Schedule
When you head into Minneapolis for the weekend, or perhaps you are a native to the city and looking for something new to do, go on an eat and sip tour to sample the fare from several local eateries in the area.
Available 18 days between Jun 30, 2018 & Oct 27, 2018
View Schedule
There are culinary tours that you will love in Minneapolis while tasting the wine that is brought in from the vineyards of California with a tour guide explaining to you and your spouse who is stopping to take pictures and ask questions.
Available 14 days between Jun 29, 2018 & Sep 28, 2018
View Schedule
During the Minneapolis Riverwalk Food Tour you will get to explore places like the Gold Medal Park, the Mill City Museum, St. Anthony Falls, the Stone Arch Bridge, restaurants and more, you will also get to taste delicious food like cheese bread.
Available 34 days between Jun 28, 2018 & Oct 27, 2018
View Schedule
For all of you out there who desire a Midwestern vacation outing that has culinary tours, Minneapolis is the spot, so consider this "Minneapolis Nordeast River District Food Tour" package deal.
Available 26 days between Jul 1, 2018 & Oct 21, 2018
View Schedule