Airboat Tours in Miami, FL

An airboat tour in Miami, FL is sure to be a fantastic time. Do not miss out on all of the fun in the area!
I am making my dreams come true by doing an air boat tour in the Everglades of Florida and I just love the sun, the wind, and the smell of the glades while we wiz around.
Available 132 days between Sep 21, 2018 & Jul 31, 2019
View Schedule
Half-Day Bus Trip to Everglades with Airboat Ride and Wildlife Show will last 5 hours, there will be free hotel pick-up, and drop-off guests will get to see wildlife in their natural habitat including alligators and many others, there will be a morning or afternoon departure.
There are airboat tours that are available for those who love to travel and see the world and want to stop by the Florida Everglades and Reptile Show that your children will love to see along with your parents while they are visiting for the holidays.
Available 72 days between Sep 21, 2018 & Mar 31, 2019
View Schedule
There are airboat tours that are ready for you to have fun in the sun as well as the sky with your private tour guide showing the beautiful exhibits in the Everglades which are located in Miami, Florida where it is a freedom of vacation for you and your family.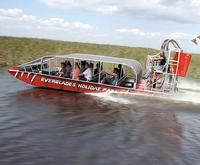 The Everglades Air boat Tour and Alligator Show is a fun tour to experience with family on a vacation, you will see many amazing, exotic landscapes and sites and you will also see animals such as crocodiles, alligators, birds, turtles and more.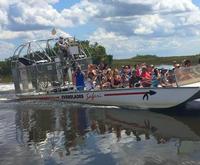 The Everglades Airboat Ride and Wildlife Nature Show from Miami is full of attractions. Therefore, you and your family will enjoy this tour and will have the opportunity to watch the different birds, alligators and much more. After finishing the Airboat ride, you will experience the best Wildlife Show.
Available 231 days between Sep 21, 2018 & May 31, 2019
View Schedule
Enjoy this epic adventure and brag to your friends as you get up close and personal with wildlife like birds, snakes, and alligators like never before for an experience like no other on this unique Everglades Air Boat and Alligator Tour from Miami!
Available 283 days between Sep 21, 2018 & Jun 30, 2019
View Schedule
Experience the famous Florida everglades via an Airboat Tour where you will enjoy five hours of adventures traveling through the everglades to see native wildlife in their natural habitats and you will be able to have time to walk around the area to explore further.
Available 284 days between Sep 21, 2018 & Jul 31, 2019
View Schedule