Memphis Pet Friendly Lodging
View all 27 Pet Friendly Hotels
Bring Fifi or Bowser along with you during tour stay in Memphis when you book your lodging at any of these great hotels. Offering comfort and convenience to both you and your beloved pet, you'll find that you'll be able to enjoy your vacation more without worry about whether your pet is being cared for properly back home and gives you peace of mind while you're out sightseeing Memphis.
Memphis Pet Friendly Lodging
You will experience a comfortable stay just like home when you book the Extended Stay America on Poplar Avenue in Memphis, Tennessee. You can even bring your pet companion with you at any time of the hour. Choose a comfortable suite with deluxe accommodations for two double beds, one queen-size bed, or a king-size bed. Every room has a fully equipped kitchen with enough space to cook your favorite meal. Alternatively, you can choose to eat outside the hotel at Owen Brennan's or Corky's Ribs and BBQ. Free grab and go breakfast is also offered to go in the mornings.
Up to one small dog under 20 pounds is allowed for an additional per night fee.

Rating:





Customer Rating:





Located off I55, a 12 minute drive to Graceland, the Super 8 Memphis, Tennessee is the perfect place to stay for those traveling with their furry companions. This simple pet-friendly budget motel, located near the Mississippi River hosts an array of sight-seeing, leisure or high-energy activities for all travelers, including furry companions. Surrounded by parks and recreational areas, the Super 8 Memphis is ideally suited for travelers to share and experience enjoyable outdoor activities with their furry companions of any energy level from leisurely sightseeing to playing fetch in the Tom Lee Park, all will have a good time. Wroof.
Up to two small dogs are allowed for an additional per night fee plus a damage deposit.

Rating:





Customer Rating:





Some things in need of repair, but for the price it was comfortable and location by Graceland was great!
Valerie Sanford
Burlington, IA
The Days Inn Memphis at Graceland is the perfect choice when looking for a pet friendly hotel in Memphis, Tennessee. The hotel offers free Wi-Fi, complimentary hot breakfasts, free parking and an outdoor pool. Each room has cable TV with pay per view, a coffee maker, iron and ironing board, refrigerator and microwave. Located across the street from Graceland, there are many attractions nearby. Some of these include Elvis Presley's Graceland tour and the Memphis Zoo. Various restaurants include the Rock 'n' Roll Café, Uncle Lou's Southern Kitchen, Marlowe's Ribs & Restaurant, and the Blues City Café.
Large dogs are allowed for an additional per night fee.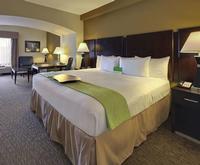 When guests stay at the La Quinta Inn & Suites Memphis Wolfchase, they are welcome to have their pets with them in their rooms. The hotel offers a spacious outdoor area where pets can walk around, and the floors in the rooms are easy to keep clean if pets happen to leave a few hairs behind. Guests can relax in the indoor hot tub or enjoy a dip in the heated indoor pool. All of the rooms have a microwave and refrigerator and have been recently renovated with new beds and furnishings.
Up to two large dogs under 50 pounds are allowed for free.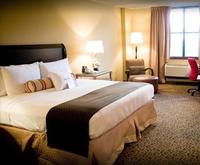 Don't leave your furry family members at home because the DoubleTree Hotel has a pet-friendly policy. The hotel amenities such as a pool, a hot tub, a fitness center, an on-site restaurant, business center and meeting rooms. Nearby attractions are the Hard Rock Café - Memphis, The National Civil Rights Museum, Sun Studio Guided Tour, Blues City Café, Stax Museum of American Soul Music and Mud Island River Park, all within minutes from the hotel. You and your pet can relax in your room that provides a coffee maker, an iron, room service, free high-speed Internet and cable television.
Up to two large dogs under 50 pounds are allowed for an additional one-time fee plus a damage deposit.

Rating:





Customer Rating:





Hilton Memphis is a pet-friendly hotel located in the city of Memphis, Tennessee. The hotel is located near some local tours and some local museums that you could visit while you are staying at the hotel. There is also a theater in the area that you could visit during your stay. There are many amenities at the hotel that could help make your stay comfortable. The hotel has on-site restaurants, as well as high-speed internet, cable TV, free newspapers, and a business center. In addition to those amenities, the Hilton Memphis hotel also has a hot tub that is located outdoors.
Up to two large dogs under 50 pounds are allowed for an additional per night fee.
View all 27 Pet Friendly Hotels