Memphis, TN Hotels with an Outdoor Pool
View all 32 Hotels with Outdoor Pool
Memphis, TN Hotels with an Outdoor Pool

Rating:





Customer Rating:





first time there and man it was good to elvis home and the stay here was nice we was there on the 30th and cant wate for 31th we be there my wife love it she never been to see elvis but she love.s his songs just like me we all love you elvis and miss you form debbie vanmeter butchvanmeter
Butch&debbie Vanmeter
Bedford Indiana47421
Located in scenic Graceland, this hotel is an ideal stay for any Elvis fan or even tourist in general. Take a dip in the iconic guitar-shaped outdoor pool to cool off from the hot tunes you will inevitably hear among the famous Beale Street. Enjoy the complimentary wifi while enjoying a hot free breakfast as you plan a day of sightseeing the numerous attractions throughout Graceland and Memphis as a whole! Vacancies are limited, so book your stay as soon as possible in order to ensure a room at one of the best hotels this city has to offer!
Outdoor pool is open from 8 AM to 10 PM daily.

Rating:





Customer Rating:





The hotel was just as I expected... Fabulous. Check-in was easy... Room service great...
Tracey Yates
Louisville, MS
Hilton Memphis hotel in Memphis, Tennessee has amenities that may help make your stay at the hotel fun and comfortable. Some of the fun amenities that the hotel has include a 24-hour fitness center, an outdoor pool, free newspapers, on-site restaurants, free Wi-Fi, cable television, irons and ironing boards, coffeemakers, and free parking. The Hilton Memphis also has a hot tub located outside of the hotel. There are many activities that are located near the hotel. There are a number of tours near the hotel, there are museums that you can visit, and there are restaurants and a theater near the Hilton Memphis.
Outdoor pool and hot tub is open from 10 AM to 10 PM daily.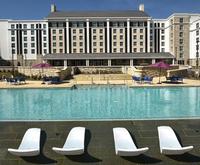 Rating:





Customer Rating:





Connecting with the spirit of Elvis is the reason for a trip to Memphis, and nowhere brings you closer than the epicurean pool at the Guesthouse at Graceland. Sitting poolside in a chair listening to the wind blow through the grand oak trees, I can see why a king would choose to settle here. When the sun goes down and the scene is illuminated by the softer light of the underwater lamps, I become part of a dreamlike experience. Finishing off the night in the hot tub beneath the stars, I can't help falling in love with this place.
Outdoor pool and hot tub is open from 8 AM to 10 PM daily.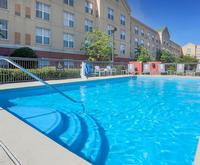 Homewood Suites Southwind offers a spacious outdoor pool for guests to enjoy that is located on the side of the property to allow for a bit of privacy. There is also a fence around the pool. An outdoor BBQ pit is available for guests to use when they want to prepare a meal outside along with picnic tables to eat at and lounge chairs around the pool to sit on when guests aren't in the water. Free newspapers are available in the lobby along with coffee and tea.
Outdoor pool is open from 8 AM to 10 PM daily.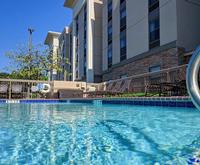 Hampton Inn Suites Memphis Not only is Hampton Inn Suites located in one of the most popular areas of Memphis, Tennessee but it has one of the most beautiful outdoor pools. When traveling during the warm months one of the best things about hotels is the features of the outdoor pool. Most are small and outdated, but there is a few that will knock your socks off. Here at Hampton Inn Suites, they do just that. The outdoor pool is surrounded by luscious trees that give a relaxing view for many to enjoy. Enjoy the pool at Hampton Inn Suites.
Outdoor pool is open from 9 AM to 10 PM daily.

Rating:





The Doubletree Hotel in Memphis is located in the center of the city and is surrounded by trees and historic buildings. While at the hotel, guests can enjoy spending time in the seasonal outdoor pool. There is a concrete partition that separates the hotel from the pool area to provide privacy for guests. Tables are positioned around the pool for guests to enjoy a snack while they are outside. Room service is available as well as free cable television and Wi-Fi services.
Outdoor pool is open from 7 AM to 10 PM daily.
View all 32 Hotels with Outdoor Pool