Memphis, TN 4 Star Hotels
While you are vacationing in Memphis, TN, you can enjoy comfort and leisure by choosing a 4 Star Hotel. These 4 Star Hotels offer all the basic amenities that you need to assure that you rest in comfort and are close to the best things to do in Memphis. Make your Memphis hotel reservations today!

Memphis, TN 4 Star Hotels
Rating:





Customer Rating:





Great hotel with great staff.
Donald G. Adkins
Seneca, SC
Hilton Memphis Hotel is rated four stars because of the location, main attractions, and amenities. The hotel provides a 24-hour fitness center and outdoor pool, complimentary airport shuttle service, two on-site restaurants, and USA Today newspaper delivery. Nearby attractions are the Ridgeway Four and Paradiso theaters, Lichterman Nature Center and the Dixon Gallery & Gardens, your stay at the Hilton Memphis is sure to please. coffee maker, iron and ironing board, high-speed internet, complimentary cable television with available Pay Per View, so after a long day of fun you can enjoy all the amenities in your room as well.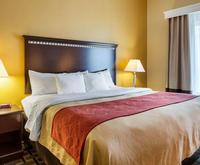 Rating:





Customer Rating:





Great place. Clean, very comfortable
Carol Miller
Columbia, KY
The Comfort Inn is rated to be a four-star hotel because of the nearby attractions and amenities. The hotel provides a fitness center, outdoor pool, hot continental breakfast, and newsstand. Nearby attractions include the Riverside International Speedway, The National Civil Rights Museum and the National Ornamental Metal Museum, all within minutes from the hotel. an iron, refrigerator, microwave, cable television, and high-speed internet access so you can stay relax in your room and watch your favorite show or movie with a little snack you can warm up in the microwave.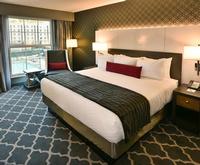 Rating:





Customer Rating:





The Guest House at Graceland Hotel is rated four stars because of the amenities and their main attractions. The hotel provides Elvis fan's a chance to get the pinnacle of the Elvis experience and you're right next door to Graceland for easy access to the estate tours and adventures. The amenities are airport shuttle, room service, an Elvis-themed lobby and lounge, an outdoor pool and hot tub, a live theater, and shuttles to downtown Memphis and Beale Street. Your room provides you with overhead rain shower, Elvis-inspired toiletries, 50-inch HD TV, fridge, 300-thread count sheets for a good night's sleep.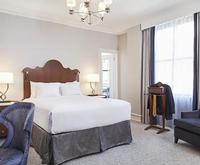 Rating:





Customer Rating:





The peabody is one of the most beautiful, old-style hotels around. The ducks that live there are delightful and the view from their home on the roof is breathtaking. I would stay here any chance I get!
Alyssa Honeycutt
Centennial, CO
If you are searching for a 4 Star hotel while on vacation the Peabody Memphis is a great place visit. As a guest, you will have access to the popular Peabody Athletic Club that will give you that daily workout you deserve. If you are looking for a bite to eat you can enjoy a delicious meal on the on-site restaurant or just kick back in your room and enjoy room service delivered right to your door. There is a indoor pool and complimentary wi-fi and parking for your stay.