Mackinac Island Area, MI Hotels with an Outdoor Pool
View all 8 Hotels with Outdoor Pool
Mackinac Island Area, MI Hotels with an Outdoor Pool
Exclusive Online Offer: Save up to 10%
Click for More Information


Rating:





If you're looking for a great outdoor pool in Mackinaw City, MI, then The Econo Lodge and Indoor Waterpark is where you want to be because not only do they have a refreshing outdoor pool they also have amenities like a heated pool, slides, water sprays, sauna, fitness center, and a complimentary breakfast. There's also some great nearby attractions which are the Odawa Casino, Jack Pines Lumberjack Show, Old Mackinac Point Lighthouse, and much more. Come enjoy the huge water park with the kids and have tons of fun.
Outdoor pool and hot tub is open from 9 AM to 10 PM daily.

Rating:





Customer Rating:





Great hotel and friendly staff. Clean rooms and have everything you need for your stay. Great family time!
Nancy Mendoza
Millersburg , IN
Michigan is a state with hidden treasures like Mackinac Island the most interesting island we could say that is almost majestic. This place is very relaxing full of nature mixed with architectural style and with many cultural activitues. Best Western Harbour Pointe is the kind that you'll like to stay because of their amazing outdoor pool available for all guest. Best Western Harbour Pointe has a family friendly environment and offers towel service, make your reservation now and enjoy this amazing pool.
Outdoor pool and hot tub is open from 10 AM to 10 PM daily.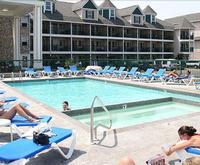 Rating:





If you've never been to Mackinaw island in Michigan, you must add this gorgeous destination to your list of places you want to go and see. While visiting this spectacular island, make sure to stay at the Bayside Hotel of Mackinaw. This hotel offers gorgeous bayside views, patio and deck areas with outdoor bars and of course an outdoor pool. While enjoying your vacation at this lovely island you can take nice relaxing swim in the huge outdoor pool this hotel has to offer. You can also bet on a good nights sleep in the fully equipped suites made for comfort. So come on down to Mackinaw today!
Outdoor pool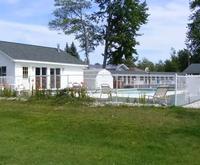 Rating:





If you are looking for a nice hotel with an outdoor pool to stay in Nashville TN is one of the best hotels out there that you can stay in. What makes Nashville TN stand out than any other hotel in the locality is the excellent pool service that they provide. The pool is very spacious and provides an excellent environment for their guests. You can enjoy swimming with your whole family and Nashville provides really good security to the guests. Based on the experience of many guests, I can say that Nashville TN is one of the best hotels that you can enjoy outdoor swimming.
Indoor pool and hot tub
One of the amenities at the Starlite Budget Inn Mackinaw is the outdoor pool. Guests can enjoy the pool during the summer months. A light breakfast is offered each morning that includes cereal and pastries. While guests are outside, they can prepare a meal on one of the grills and eat at one of the picnic tables that are located near the pool. Rooms feature a clock radio and iron with an ironing board. There is a microwave and refrigerator in some of the rooms.
Outdoor heated pool is open from 9 AM to 10 PM daily.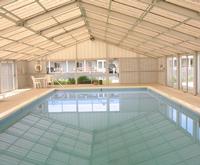 Rating:





Looking for a hotel with an outdoor pool, then look no further, because the Great Lakes Inn features an outdoor pool surrounded by a white fence to provide privacy while you are swimming or sunbathing. The hotel has other great amenities such as a heated indoor pool, hot tub, and a complimentary hot breakfast. The guest rooms are equipped with high-speed internet, cable television, small refrigerator, microwave, coffee maker, and free local calls. There is plenty of shopping, attractions, and restaurants all within a short distance from the hotel.
Indoor heated pool is open from 9 AM to 10 PM daily.
View all 8 Hotels with Outdoor Pool