Mackinaw Island Area, MI Hotels with Indoor Pool
View all 25 Hotels with Indoor Pool
Weather can always be a hit or miss when it comes to your vacation to Mackinac Island. Book a hotel with an indoor pool so you can always enjoy a fun activity during rain or shine. Browse through these hotels today and find the perfect fit for you!

Mackinaw Island Area, MI Hotels with Indoor Pool
Exclusive Online Offer: Save up to 10%
Click for More Information


Rating:





After checking into the Econo Lodge & Indoor Waterpark, guests will be able to swim in the indoor pool and enjoy the slides that are available. There are a few slides inside, but most of them are located outdoors. However, the indoor pool is heated for the comfort of guests. The hotel also offers a sauna and a fitness room for guests who like to exercise. A free breakfast includes biscuits, waffles, and juice. The rooms are designed to look like a lodge instead of a hotel to make guests feel like they are at home.
Outdoor pool and hot tub is open from 9 AM to 10 PM daily.

Rating:





Customer Rating:





The front desk was very helpful. Our room was very clean and the view was wonderful.
Jane Wilson
Allen, TX
Today is a great day to hang out at the Best Western Harbour Pointe indoor pool because it is too chilly outside to swim. I love being knowing I can grab a relaxing swim here regardless of the temperature. The beautiful private shoreline of Lake Huron is such a pretty sight here at the Best Western. This location is so peaceful and I love that we are secluded on several acres away from the hustle of the rest of the world.
Indoor pool and hot tub is open from 10 AM to 10 PM daily.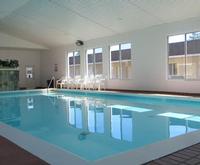 Rating:





Customer Rating:





The Waterfront Inn sits on the beautiful shores of Lake Huron in Mackinaw City. If you're looking for that perfect place with an indoor pool, then this is the place for you because you have the best of both worlds. You can choose the beach or you can stay inside and relax and the hotel are around some great attractions including the Old Mackinac Point Lighthouse, and Mackinaw Crossings for a day of shopping. Your room is equipped with complimentary high-speed internet, cable tv, refrigerator, and other great amenities to make your stay more enjoyable.
Indoor pool and hot tub is open from 10 AM to 11 PM daily.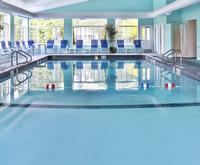 Mackinaw City, Michigan is a prime area for vacationers and business travelers alike, which is why Holiday Inn Express of Mackinaw City has decided to offer an excellent hotel in the area. For those who choose to stay at this hotel, there is an array of included services, starting with a relaxing indoor pool, free Wi-Fi, complimentary breakfast, and more. Additionally, one of the appeals of the Holiday Inn Express in Mackinaw City is its proximity to local attractions, restaurants, and business offices. Finally, guests to this hotel consistently rave about the first-class customer service that they are treated to.
Indoor heated pool and hot tub is open from 8 AM to 10 PM daily.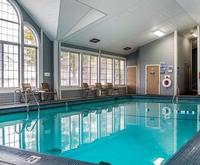 Mackinaw City is known for its waterfront views and there is no better way for you to experience that; than to book the Sip n Sail Cruises and the Mackinaw Island Carriage Tours. After getting in make sure to book your stay at the Clairon Beachfront Hotel. You will love the Hot Tub, free Wi-Fi, 24-hour fitness area, and a complimentary hot breakfast every morning of your stay. The Jack Pines Lumberjack Show is also included when you book your stay at Clairon. Make sure to dance with lady luck and ride the free shuttle to the Odawa Casino Mackinaw.
Indoor pool and hot tub is open 24 hours daily. There is also a lifeguard on duty.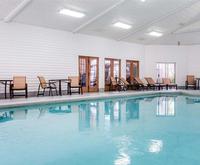 Comfort Inn Lakeside offers guests the use of an indoor pool while they are staying in the hotel. The heated pool has several chairs and a few tables around it for those who want to sit instead of going in the water. Guests can get free breakfast each morning before exploring the city or before enjoying the day in the pool or the rooms. Rooms have been remodeled to feature new bedding and new decorations on the walls. A microwave and refrigerator are in most rooms in the hotel.
Indoor heated pool and hot tub is open from 7 AM to 10 PM daily.
View all 25 Hotels with Indoor Pool