Thunder Falls Family Water Park - Mackinaw City

Description
Thunder Falls Family Water Park - Mackinaw City Photos (10)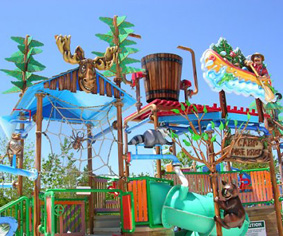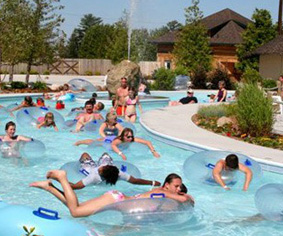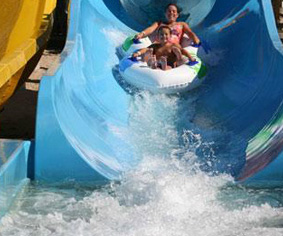 As the only full-scale water park in Northern Michigan, Thunders Falls Family Water Park is a must visit for vacationers looking to cool down during their visit to the Mackinac Island area. The park spans 20-acres, and offers guests a myriad of activities. Water slides, wave pools, lazy rivers, beach volleyball areas, interactive play areas for children and much more make up Thunder Falls variety, ensuring every member of the family will have a great time. So whether you'd prefer to shoot through tubes at high-powered speeds all day or merely lounge in the surf and sun, you can find it all at Thunder Falls Family Water Park.
Rides and Attractions
Body Slides
Back Lash - 219 feet long enclosed body slide that takes high banking turns and 360 degree loops in the pitch dark.
Melt Down - Extreme body slide with banking curves and twisting loops.
Green Goblin - 222 feet long body slide with loops, twists and high banking curves.
Tube Slides
Hot Shot - 416 feet of rapids in an enclosed slide with twists and 360 degree high banking curves.
Cliff Hanger - Open tube slide of 425 feet full of drops, tight curves, and 360 degree high banking turns.
Thunder Bolt - Over 321 feet of 360 degree high banking curves and sudden drops.
Speed Slides
Double Trouble - Two 280 feet long, 6.5 story speed slides that reach up to 45 mph.
Other Attractions
Thunder Lake - 300,000 gallons of waves in all directions that reach up to five feet.
Kick Back Creek - A continuous creek flowing at 4 mph that stretches throughout the park.
Grizzly Woods - Children's area featuring a 600 gallon dump bucket, water cannons, and four slides.
Duck-N-Run - Toddler area featuring misting sprays, cascading fountains, and shooting geysers.