Sunset Trolley Tour Across the Mackinac Bridge
Sunset Trolley Tour Across the Mackinac Bridge is no longer operating.
Description
When you visit the popular Mackinac area on your vacation, you cannot help but notice the magnificent architectural beauty of the Mackinac Bridge, and the Sunset Trolley Tour gives you an amazing way to view this famous bridge up close.
The Mackinac Bridge is the third longest suspension bridge in the world, and carries the traffic of Interstate 75 across the Strait of Mackinac, connecting the upper and lower peninsulas of Michigan together. The bridge is immense in size, spanning over 26,000 feet in length and standing over 550 feet above the water, and is truly a sight to behold. Not to mention the spectacular sunset and the photo opportunities you will be treated to on this evening to remember!
Detailed Tour Itinerary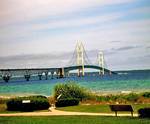 Stop at
Bridge View Park allows visitors to behold the scenic views across the Straits of Mackinac Island to the recreated Fort Michillimackinac. Guests to the park can relax on the closed pavilion or enjoy displays exhibiting the history of the area.
Stops may change due to traffic, weather, maintenance, etc.
On the Sunset Trolley Tour, you will set off across the bridge taking in wonderful views of the Strait of Mackinac as well as Mackinaw City and St. Ignace. Sit back and enjoy the history of the Mackinac Bridge as you journey to the best viewing spot for picture taking. Besides terrific photo opportunities, the tour gives you a great chance to learn more about the culture and geography of the area. Your whole family will cherish the experience and memories of the Sunset Trolley Tour as a highlight of your Mackinaw vacation. Space is limited on the tour, so make your reservation today!
Reviews
Karen House
IN
✓
Verified Traveler
We had a great sunset the night we went across, the driver was very informative. We had a wonderful time. They also took us to the lumberjack show, which was great fun.
Sherry Morrell
MI
✓
Verified Traveler
"Great tour bus driver."
Great tour bus driver. Nice way to see the bridge and all about it. I would highly recommend this tour!
Kimberly Jewell
WI
✓
Verified Traveler
This was the best part of the trip. Our tour guide was excellent and everything went on schedule.
Denise Charette
Gatineau, Quebec
✓
Verified Traveler
"Enjoyed the tour."
Enjoyed the tour.