Mackinaw City Trolley Tour
Mackinaw City Trolley Tour is no longer operating.
Description
Climb aboard this old-style trolley tour to enjoy the unique Great Lakes experience available in the Village of Mackinaw City, Michigan.
This 2.5-hour trolley tour is the best way to begin your stay in the Straits area! While driving along in the trolley, a guide narrates the scenery and over 300 years of history that makes the area a sought-after destination. Transportation has always been the city's story, and of being a meeting place for hundreds of years. Many local landmarks illustrate where ships, railroads, and automobile travelers gathered in years past, and you will hear stories of a time long ago when the Native Americans walked the land in moccasins and built the earliest structures where the city now stands. In the past century, the whole city has been transformed from a small fishing village to a busy and upbeat destination for many visitors. The history is part of what makes it such an interesting and exciting vacation spot.
Detailed Tour Itinerary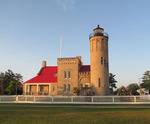 Stop at
Stop at
Old Mackinac Point Lighthouse
Visit the Old Mackinac Point Lighthouse, one of the few remaining castle-like lighthouses. Enjoy the stories of reporters, lighthouse keepers, and others who lived in the area. Learn the history of 200 shipwrecks in the icy Straits and the local divers who discovered 48 of them, and listen as the guide tells chilling stories of the destruction and discovery of those ships.
Drive By
Within view of the Mackinac Bridge, you can take in fantastic views of the Straits, as well as the islands in the Straits, including Mackinac Island, Round Island, and Bois Blanc Island.
Drive By
Drive By
Fort Michilimackinac Area
Hear local lore as you drive past Colonial Michilimackinac, an 18th-century fort and fur trading village. The fort was reconstructed based on historic maps and over 50 years of excavations still continuing today, and it offers visitors a unique perspective from the palisade walls.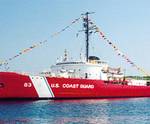 Drive By
Drive By
Icebreaker Mackinaw Maritime Museum
See the Icebreaker Mackinaw Maritime Museum, known as the "Queen of the Great Lakes," and listen to the 62-year history of the World War II vessel. If you come back later and explore the museum, you can visit the ship's mess hall, captain's quarters, bridge, engine room, and many other interesting features.
Stops may change due to traffic, weather, maintenance, etc.
This tour allows visitors to the area to see the top destinations within Mackinaw City and to learn about the rich history of the city and nearby Mackinac Island!