Los Angeles, California Sightseeing Tours & Cruises – Walking Tours

See the beautiful city of Los Angeles, California on your own two feet on a walking tour
Los Angeles Walking Tours
Hollywood - Behind the Scenes Walking Tour will last about 60 Minutes; there will be insider tips from a local, this is a family-friendly adventure, guests are encouraged to wear comfortable shoes there is a considerable amount of walking involved.
Available 97 days between Sep 25, 2018 & Dec 31, 2018
View Schedule
The Santa Monica walking food tour is hosted on Santa Monica's historic main street and it's only a short distance from the beautiful beaches shopping centers and restaurants that offer exotic food and fun in the beautiful Santa Monica sun.
Available 42 days between Sep 26, 2018 & Dec 30, 2018
View Schedule
Visit both the newer downtown area as well as the older homes and attractions, taking in a little shopping and eating while on the tour with an experienced guide who offers details about each location.
Available 95 days between Sep 24, 2018 & Apr 30, 2019
View Schedule
Downtown Los Angeles Architecture Tour is an excellent choice for families, and couples alike, there will be a local guide offering commentaries throughout the day, the duration of this architecture tour is about 2 hours, this is an excellent value for the money that you spend on the ticket.
Available 89 days between Sep 24, 2018 & Apr 30, 2019
View Schedule
Grab your friends and enjoy spending the day hiking through Griffith Park, beholding the beautiful landscape, exploring the Griffith Observatory and beholding the breathtaking beauty of the iconic Hollywood sign on this fantastic Hollywood Sign and Griffith Park Hiking Tour!
Available 250 days between Sep 24, 2018 & May 31, 2019
View Schedule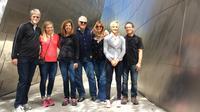 If you're a first-timer in Los Angeles, then this walking tour is for you--with incredible highlights such as Union Station, Walt Disney Concert Hall, Chinatown Gateway, Cathedral of Our Lady of Angels, Angels Flight, Bunker Hill, and Olvera Street.
Available 95 days between Sep 24, 2018 & Mar 31, 2019
View Schedule
My friends and I plan to pay our respects to the Hollywood Stars on walking tour with our own personal tour guide to provide us with all kinds of extra juicy details, first we'll stop into Madame Tussaud's wax museum for our first introduction to the legends, then we're off to literally walk in their footsteps at the Chinese theater, the Awards Walk and the Walk of Fame, along with visiting special spots that the normal tourist does not get a chance to see, it's going to be glamorous adventure and we're taking lots of pictures!
There are walking tours that are available for those who want walk through the areas where there is art and all of the beautiful exhibits in Los Angeles and an expert guide to show what all you can learn in the area of California.
Available 71 days between Sep 26, 2018 & Apr 27, 2019
View Schedule