Photo Tours in Los Angeles, CA
Los Angeles, CA is home to some of the best photo opportunities. Do not miss out on any of the hot spots by taking one of the photo tours offered.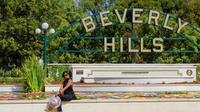 If you have a love for photography and learning all about new places that you travel to, then you must take the Private Photographer travel tour in Los Angeles. A professional photographer will take stunning images of you and your family all day while showing you the hottest attractions.
Jul 17
1:00 PM
1:00 PM
1:00 PM
1:00 PM
1:00 PM
Jul 18
9:00 AM
9:00 AM
9:00 AM
9:00 AM
9:00 AM
11:00 AM
11:00 AM
11:00 AM
11:00 AM
11:00 AM
1:00 PM
1:00 PM
1:00 PM
1:00 PM
1:00 PM
Jul 19
9:00 AM
9:00 AM
9:00 AM
9:00 AM
9:00 AM
11:00 AM
11:00 AM
11:00 AM
11:00 AM
11:00 AM
1:00 PM
1:00 PM
1:00 PM
1:00 PM
1:00 PM
Jul 20
9:00 AM
9:00 AM
9:00 AM
9:00 AM
9:00 AM
11:00 AM
11:00 AM
11:00 AM
11:00 AM
11:00 AM
1:00 PM
1:00 PM
1:00 PM
1:00 PM
1:00 PM
Jul 21
9:00 AM
9:00 AM
9:00 AM
9:00 AM
9:00 AM
11:00 AM
11:00 AM
11:00 AM
11:00 AM
11:00 AM
1:00 PM
1:00 PM
1:00 PM
1:00 PM
1:00 PM
Jul 22
9:00 AM
9:00 AM
9:00 AM
9:00 AM
9:00 AM
11:00 AM
11:00 AM
11:00 AM
11:00 AM
11:00 AM
1:00 PM
1:00 PM
1:00 PM
1:00 PM
1:00 PM
Jul 23
9:00 AM
9:00 AM
9:00 AM
9:00 AM
9:00 AM
11:00 AM
11:00 AM
11:00 AM
11:00 AM
11:00 AM
1:00 PM
1:00 PM
1:00 PM
1:00 PM
1:00 PM
Jul 24
9:00 AM
9:00 AM
9:00 AM
9:00 AM
9:00 AM
11:00 AM
11:00 AM
11:00 AM
11:00 AM
11:00 AM
1:00 PM
1:00 PM
1:00 PM
1:00 PM
1:00 PM
>