Las Vegas, Nevada Sightseeing Tours & Cruises – City Tours
Take a ride through Las Vegas and surrounding cities like Laughlin to enjoy a wide variety of activities from gambling to sightseeing. Start planning your vacation online today.

The Las Vegas Reality Show VIP Tour is the number one best selling city tour in Vegas, it is fully narrated by a friendly, local tour guide, you will get to visit places including the Gold and Silver Pawn Shop.
The Vegas strip has fun city tours and my favorite is the Museum Tour, our guide explained all kinds of extra, educational information at all of the exhibitions on all three stops, and it was such a festive atmosphere eating under a humongous tent.
Available 30 days between Aug 21, 2018 & Dec 28, 2018
View Schedule
Spend an entire day with a guided group that will show you all the best sights and sounds of Las Vegas! Enjoy seven full hours of fun at the most memorable Las Vegas Strip attractions and historical landmarks found on this full-day tour.
Traditional city tours are a great way to break up the non-stop excitement of a Las Vegas, Nevada, vacation, and for those who appreciate a little cheesy humor during their ride, check out this double-decker bus tour.
Pricing and schedule are currently unavailable.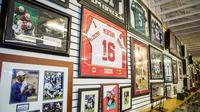 City tours are a part of many vacations, including trips to Las Vegas, Nevada, and for those who wants to check out the cars of bygone days, consider this Nostalgia Street Rods Museum package with optional VIP tour.
Pricing and schedule are currently unavailable.