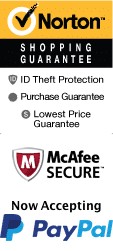 Haunted Vegas Tour and Ghost Hunt
Spend an evening touring Las Vegas, a city full of mystery, crime, intrigue, and more where you'll be treated to all the hauntings that came from the dark history of this iconic town with the Haunted Vegas Tour and Ghost Hunt.
This tour is sure to have your hair standing on end when you get the opportunity to explore such exciting locations in Sin City like the Motel of Death, Bugsy Siegel's Secret Garden, haunted hotels and so much more. As a hotspot for gangsters back in the day, Las Vegas is full of dark and crime filled history. You'll be treated to stories of celebrity deaths as well as those who died at the hands of some of the nations most famous gangsters. Lucky visitors might even get the chance to see the ghost of legendary mobster Bugsy Siegel! The tour will take you through many iconic locations before ending with a delightful complimentary pizza dinner.
This tour begins and ends at Tuscany Suites & Casino. The tour runs at 8pm every night of the week. It is 3 hours in length. All admission to all locations is included in the tour. All guests will be given the opportunity to use complimentary ghost hunting equipment. A free pizza dinner is included for all guests. Guests must be at least 13 years of age and anyone under the age of 18 must be accompanied by an adult. This tour is not wheelchair accessible. A minimal amount of walking is required, dress accordingly and wear comfortable footwear. Adult pricing will be applied to all guests. Video cameras are not allowed on this tour. Alcohol is not allowed on the tour bus. Hotel drop off and pick up is not available for this tour.
Explore some of the most fascinating and haunting locations in Sin City when you take the
Haunted Vegas Tour and Ghost Hunt.
Book Now!