Lancaster, PA Hotels with an Outdoor Pool
Lancaster, PA Hotels with an Outdoor Pool

Rating:





Customer Rating:





homey rooms, friendly hosts, great prices.
Rebecca Wailes
Richmond, VA
This Roadway Inn located in Lancaster PA alongside US Highway 30, is a convenient hotel with amenities. The hotel features an outdoor pool open from 8 AM-10 PM daily, offers a continental breakfast, free high-speed internet, local phone calls, and cable. The hotel also has many nearby shopping areas and resorts to visit throughout the day. Nearby attractions can also be found within miles of the hotel room such as Dutch Wonderland Theme Park and Sight and Sound Millennial Theatre Lancaster. This hotel would be highly recommended for nearby tourist attractions with its featured amenities and nearby attractions.
Outdoor pool is open from 8 AM to 10 PM daily.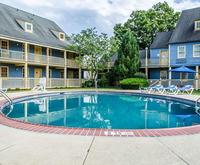 Rating:





Customer Rating:





Great place to stay. Rooms were comfortable and very reasonable in cost. Staff were friendly and willing to assist. Very close to Sight and Sound Theatre. very pleasant views of country side. Dining area was reasonably prices and food was good. Attached to the hotel.
Michael Price
Keyser, WV
The Clarion Inn Historic Strasburg Inn is located on Historic Drive in Strasburg Pennsylvania. If you are looking for a hotel with a historic feel that offer five star style and service and an outdoor pool then look no further because this is the hotel for you. As a guest here you will also get to enjoy free Wi-Fi, complimentary buffet breakfast, free parking and microwave and refrigerators in all of the rooms. Feel free to bring your furry babies along with you because this hotel is pet friendly.
Outdoor pool is open from 8 AM to 10 PM daily.

Rating:





Customer Rating:





We stayed poolside on the first floor. It had it's own separate outside entrace and we overlooked the pool. Very clean facility and the breakfast in the am helped save money.
Kelly Fletcher
Mount Laurel, New Jersey
Looking for a hotel with an outdoor in Lancaster, PA? The Hampton Inn Lancaster is a perfect choice, because not only is it easy to locate off Highway 30, but the outdoor pool is large enough for lap swimming or for having a splashing good time. Other hotel amenities include a daily hot breakfast, a complimentary weekday newspaper, access to the fitness center, and laundry facilities. Guest rooms are equipped with high-speed internet, cable television, coffee maker, microwave, refrigerator, and an iron and board.
Outdoor pool and hot tub is open from 6 AM to 11 PM daily.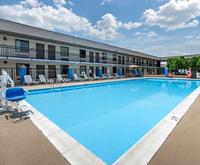 Rating:





Customer Rating:





Pet-friendly, kid-friendly, and conveniently located, the Clarion Inn & Suites Lancaster offers comfortable accommodations within easy distance of a variety of local attractions. Family-friendly fun awaits with Dutch Wonderland amusement located just six miles from the hotel; Lancaster Central Market, which is another extremely popular local spot, is a mere two miles away. The hotel offers relaxed, and relaxing, rooms and suites that include free WiFi, flat-screen TVs, coffeemakers, mini fridges, and microwaves; sofabeds and whirlpool tubs are available with upgraded rooms. The hotel also features an outdoor pool and fitness center, and it offers complimentary breakfast and free parking.
Outdoor pool is open from 8 AM to 10 PM daily.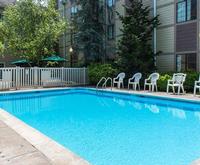 Rating:





Customer Rating:





Hotel was very nice, no housekeeping available on the weekend which was good and bad, but we found out as soon as we got there so we prepared. Jacuzzi in the room was perfect for the nice getaway for the two of us! Staff were all very friendly and we had a great time!
Janice Drake
Philadelphia, PA
The MainStay Suites Hotel has a refreshing outdoor pool where you can take a dip and have fun in the sun. The hotel provides a fitness center, a hot continental breakfast, a free daily newspaper, and on-site Scoops Grill where you can barbeque your favorite foods. Visit the nearby attractions which are the Boulders Miniature Golf, the Country Barn, and the historic Lime Spring Farm is just under 3 miles away. Your room provides you with a coffee maker, an iron, a refrigerator, a microwave, a sleeper sofa, free local calls, complimentary high-speed internet, and cable television.
Outdoor pool is open from 10 AM to 10 PM daily.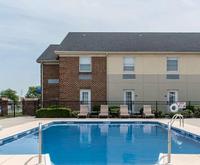 With its location in the retail complex, the Comfort Inn Lancaster at Rockvale Outlets offers a perfect location not only for shopping but also for other area attractions. The Amish Farm and Museum is within walking distance, and Dutch Wonderland amusement park is just a mile from the hotel. Rooms are relaxed and modern with free WiFi and pillowtop mattresses for guests' comfort. The hotel offers a number of amenities including outdoor pool, complimentary parking, gym, laundry facilities, and a hot breakfast served each morning.
Outdoor pool is open from 8 AM to 10 PM daily.
View all 11 Hotels with Outdoor Pool