Lancaster, PA Hotels with Indoor Pool
View all 16 Hotels with Indoor Pool
Lancaster, PA Hotels with Indoor Pool

Rating:





Customer Rating:





It is a great place to stay, the next time I'm in Pa., I will stay there.
Edward Payne
Baltimore, Maryland
The Best Western Revere Inn & Suites offers a charming design for guests to enjoy from the rooms to the indoor pool. Large windows allow guests to view the patio area outside while they are in the water. Rooms are designed to look like a cottage instead of a hotel with wooden headboards and bedding of warm colors. Breakfast is served each morning before guests spend the day at the hotel watching cable television or explore the city to view the attractions and historical buildings.
Indoor pool and hot tub is open from 6 AM to 11 PM daily.

Rating:





Customer Rating:





New hotel was very nice.
Diana Welch
Charlestown, RI
When you think about a hotel what comes to mind? Perhaps coffee, a warm breakfast, a comfortable room or even better when we look at what the hotel comes with we look for this amenity: Does it have an indoor pool? When you pick a hotel with this beauty you get two things in one. First, with an indoor pool you don't have to worry about inclement weather ruining your day at the pool, and second you don't have to leave the hotel.
Indoor heated pool

Rating:





Customer Rating:





Very clean.
treb layton
pickerington, ohio
The Hampton Inn & Suites Ephrata – Mountain Springs is located on East Main Street in Ephrata Pennsylvania. You will be amazed by how friendly the staff is here and you will not be disappointed. As a guest here you will get to enjoy free Wi-Fi, complimentary hot breakfast, free parking, an indoor heated pool that is open all year round and a microwave and refrigerator in all of the rooms. There is a fitness center that is open twenty four hours a day and there is also a lounge in the hotel where you can order your favorite drink after a long day.
Indoor heated pool is open from 8 AM to 10 PM daily.
An indoor pool and play area are part of the appeal of the DoubleTree Resort by Hilton Hotel Lancaster, which is an upscale golf resort conveniently located in the heart of Pennsylvania Dutch Country. Many area attractions are within just a few minutes' drive of this resort; among them is the Lancaster Central Market, which is only four miles away. The hotel's rooms are cheerful, comfortable affairs with a contemporary flair; they include mini fridges, coffeemakers, and flat-screen TVs. There is plenty to enjoy without ever leaving the resort; amenities include an 18-hole golf course, tennis courts, and a gym.
Indoor pool is open from 9 AM to 10 PM daily.

Rating:





Located just over four miles from the popular Rockvale Outlets, the Courtyard by Marriott Lancaster offers pet-friendly, comfortable accommodations with a number of amenities. Rooms are cheerful, contemporary spaces with premium cable channels, free WiFi, mini fridges, microwaves, and coffeemakers; for those looking for a bit more room, there are suites and upgraded rooms that offer living areas and sofabeds. Among the hotel's amenities are an indoor pool, whirlpool, outdoor courtyard, 24/7 exercise room, complimentary airport shuttle, on-site American restaurant that is open throughout the day, free parking, and a business center.
Indoor heated pool and hot tub is open from 6 AM to 11 PM daily.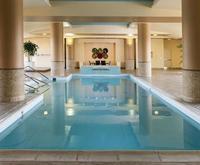 There are so many amenities in this great hotel that you will not want to leave to go and explore Lancaster Pennsylvania when you are here, because you will be caught up in the amazing fitness center along with other amenities like the indoor pool that will be warm all year-round and will make sure you have the time for life. When you are ready to leave you will be thrilled to know you are within close distance to the toy train Museum along with Dutch Wonderland and it will be a great experience for you to be able to go to these places quickly and easily.
Indoor pool and hot tub is open from 9 AM to 10 PM daily.
View all 16 Hotels with Indoor Pool