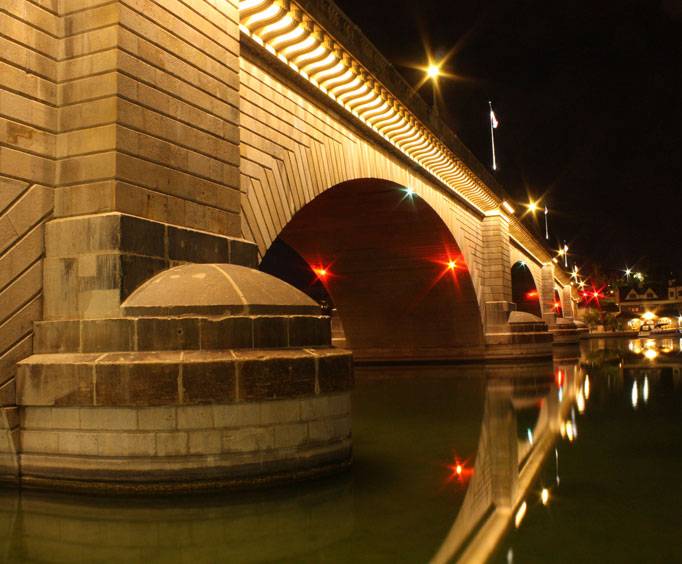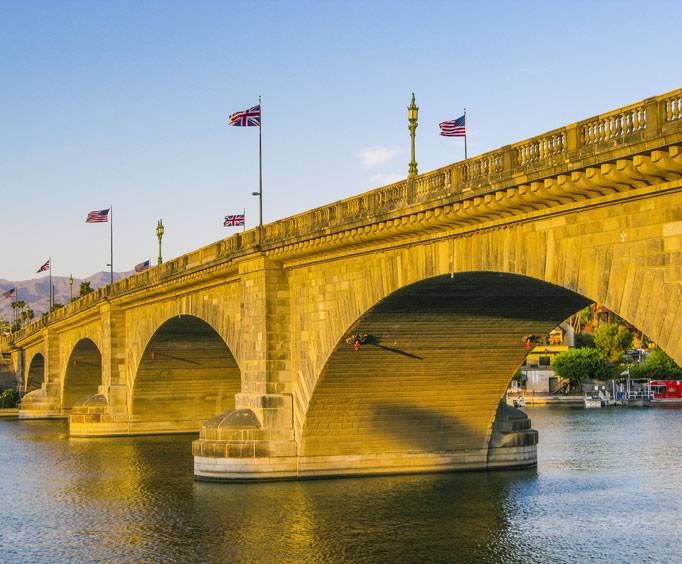 London Bridge in Lake Havasu City, AZ
London Bridge is located across the Bridgewater Channel and connects Pittsburg Point in the Colorado River with Arizona's Lake Havasu City. This sandstone and granite bridge was originally built for the English capital in 1831, but it was auctioned off to Lake Havasu City in the late 1960s.
This famous tourist attraction measures 930 feet and has five arches. Construction crews in London meticulously listed the bricks of London Bridge as they took them off and shipped them to Lake Havasu City via the Panama Canal.
Robert P. McCulloch is the man responsible for bringing London Bridge to Arizona. Born in Missouri in 1911, McCulloch built his wealth mainly as an entrepreneur in the chainsaw and oil industries. McCulloch decided to purchase London Bridge for $2.46 million in 1968 to draw people to Lake Havasu City, one of the many cities he had a hand in founding. The English decided to auction off their iconic bridge in the 60s mainly because it couldn't sustain modern automobile traffic. If London Bridge wasn't replaced, it would most likely have sunk into the Thames River. The reconstruction of London Bridge in Arizona was completed in 1971.
Today, London Bridge is one of the most photogenic sites in Lake Havasu City. Not only is it exciting to see all the historic English bricks (some of which bear the marks of World War II), but a walk across London Bridge also offers guests the best views along the Bridgewater Channel. A stroll on London Bridge is a must-do for all visitors of Lake Havasu City.