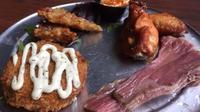 Downtown Allardt near Knoxville, TN
2015 Michigan Ave Allardt, TN 38504
Downtown Allardt is one of the most memorable and stunning places near the Knoxville, Tennessee area.
The downtown Allardt area in Tennessee is filled with beauty and extra special happenings. When you visit the city of Allardt, you are guaranteed to have a marvelous time. There is always something going on in Downtown Allardt in Tennessee. The festivals are extra special and highly unique. Hospitality is in abundance because making everyone feel welcome is a top priority in this community.
There are many extraordinary opportunities in Downtown Allardt. This is an interesting hot-spot worth experiencing and seeing. The beautiful surroundings and the pumpkin-shaped water tower add a touch of unique flavor to this area. This entire city is situated in the rugged hills of Tennessee. The culture is consumed by the arts and the Great Pumpkin Festival adds a touch of magical fun. The Weigh-off is another annual event. October is the time to enjoy the Great Pumpkin Festival and the weigh-off is considered to be a world-wide pumpkin added attraction, by many.
Downtown Allardt is filled with much sturdy German culture. This community had been incorporated in the year 1964. It is centrally located on top of the western Cumberland Plateau among many beautiful views.
You will definitely enjoy a spectacular visit to Downtown Allardt near Knoxville, TN. You'll have so much to talk about because this area will fill you with awe and wonder. Start to plan your visit today and expect to have the time of your life.
Events at Downtown Allardt