Key West and Florida Keys Pet Friendly Hotels
View all 5 Pet Friendly Hotels
You wouldn't dream of going on vacation and leaving a family member behind. Now you can take your furry, four-legged friends along when you stay at one of these Key West and Florida Keys hotels.
Key West and Florida Keys Pet Friendly Hotels

Rating:





Customer Rating:





The staff was very proffesionel and helpful. We had a great stay.
Kaja Mainardi
Oslo, 0
We understand the importance of a pet-friendly resort and we here at the Best Western Key Ambassador Resort Inn try to provide the best service to your pets as well. We love pets here we do our best to make sure that your stay is comfortable. We train our staff on how to handle pets on a regular basis. We provide pets with good foods that are safe and which are tested properly by us first. Even if you have to go out for a meeting your pet is safe with us. You can take your pets out for a walk at our resort.
Up to two large dogs are allowed for an additional per night fee plus a damage deposit.

Rating:





The Doubletree Grand Key Resort can be found in Key West. With this being a common destination for people to visit, this resort offers plenty of amenities in order to compete with their competition. Some of these great amenities include transportation to and from the airport, transportation to and from old town Key West, in-room refrigerator, outdoor pool, hot tub, free parking, on-site restaurant, free Wi-Fi, lounge or bar, business center, fitness center, kid's program, laundry service, and room service.
Up to two large dogs under 50 pounds are allowed for an additional one-time fee.
Don't leave your furry companion at home while traveling to the Key West, instead check into the pet-friendly Casa Marina Resort, A Waldorf Astoria Resort. Not only does the resort welcome four-legged guests, but there are amenities for two-legged guests that include several tropical pool, spa, a golf course, and bikes and other sports equipment are available for rent. There are several restaurants onsite. Rooms are equipped with cable tv, refrigerator, coffee maker, microwave, internet access, and an iron and ironing board. Room service is available. There are several local attractions that include Heminway's house, art galleries, and Sand-Isle.
Small dogs are allowed for an additional per night fee.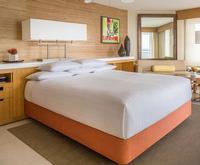 Rating:





The Hyatt Key West is a hotel that is located in Key West, Florida. The hotel is located near a number of shops and stores in the area, so there are many options for you to choose from if you are looking for fun activities and entertainment. There are a number of restaurants in the Key West area, as well. There are also tours and art galleries that are available to visit. The amenities of the hotel are numerous. The hotel has flat screen TVs, bathrobes, coolers where you can store food and drinks, a hot tub, and the hotel is pet-friendly.
Up to two large dogs under 50 pounds are allowed for an additional one-time fee.
At Reach Resort, we understand the need for providing proper care to pets. We understand that some customers are constantly worried about the safety of their pets. We at the Reach Resort make sure that the pets are given constant care and attention. We welcome pets here and make sure they are treated properly. We provide the best pet foods to your pets so you don't have much to worry about. We are always traning our staff to take good care of the pets of our customers. Even if you are away we take good care of your pets so you have one less thing to worry about.
Up to two large dogs are allowed for an additional per night fee.
View all 5 Pet Friendly Hotels