Key West and Florida Keys Hotels with an Outdoor Pool
View all 14 Hotels with Outdoor Pool
Enjoy the excellent Key West and Florida Keys, FL summer weather at one of these hotels. An outdoor pool provides entertainment for both adults and children at a convenient, on-site location.

Key West and Florida Keys Hotels with an Outdoor Pool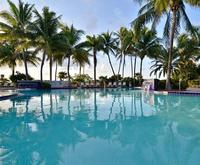 Rating:





Customer Rating:





The Best Western Key West Ambassador Resort Inn offers a stunning outdoor pool that is designed with dark blue details along the edges of the pool and a waterfall feature on one side. Since the pool is heated, it's available for guests to use throughout the year. Palm trees are scattered around the perimeter of the pool for guests to view as well as tables and chairs for the comfort of guests. Rooms are designed with warm colors and new features including microwaves and refrigerators.
Outdoor heated pool is open from 8 AM to 10 PM daily.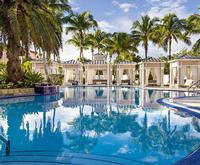 Rating:





Have you ever been to Key West? It's one of the most beautiful places I've ever seen. I love it so much that I visit Key West every year, and when I visit, I stay at the Doubletree Grand Key Resort. One thing I love about this resort is the outdoor pool. After all, it's Florida! You've got to lounge by a Florida pool! The one at Doubletree is big and lovely. Plus, the resort offers a hot tub, free wi-fi, a refrigerator in every room, free parking, and lots more.
Outdoor pool and hot tub is open from 8 AM to 10 PM daily.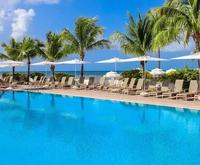 Rating:





The Southernmost on the Beach Hotel offers stunning views for guests to enjoy while they are swimming in the outdoor pool. Decorative designs located along the side of the pool create a waterfall every few feet. Since the pool is centrally located on the property, guests can sit on their balconies to view the water while guests in the pool can view the details of the buildings that make up the hotel. Rooms are designed with an aquatic theme including shades of blue and seashells for decorations.
Outdoor pool

Rating:





Sheraton Suites Key West Come visit Sheraton Suites in key West Florida. Where the sun is shining, the trees are just as beautiful as the pools. Imagine yourself relaxing by the outdoor pool here a Sheraton Suites Key West. We have sparkling blue water and beautiful scenery to help you relax to the utmost possible state. When visiting Florida we all think sunny skies, palm trees and beautiful beaches. When it comes to outdoor pools most hotels lack in that area. We know you want to relax and enjoy yourself. Here at Sheraton Suites Key west you can do just that.
Outdoor pool and hot tub is open from 7 AM to 11 PM daily.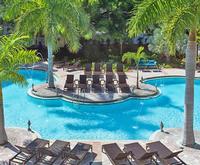 For travelers searching for an excellent hotel in Key West, Florida, the Fairfield Inn and Suites Key West is one of the best options. First of all, guests of this hotel have spacious, luxury rooms; perfect for a family of any size. Additionally, for those who choose the Fairfield Inn and Suites Key West, they'll enjoy swift access to the best local attractions, high-end dining, and quick access to shopping malls. Finally, this luxury hotel supplies guests with a wide variety of useful amenities, including a beautiful outdoor pool, a hot tub, appliances in every room, free Wi-Fi, and more.
Outdoor pool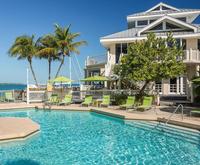 Rating:





The Hyatt Key West tries to make guests feel like they are at home away from home while staying in the hotel. The outdoor pool is located right on the side of the hotel with a view of palm trees at one end. When the lights are on at night, the water has a sparkling blue appearance. A concierge is available to help guests to their rooms. The rooms are designed so that they are hypoallergenic. Bathrobes can be found in each bathroom along with luxury toiletries. Data ports are also in each room.
Outdoor pool and hot tub is open from 6 AM to 10 PM daily.
View all 14 Hotels with Outdoor Pool