Key West / Florida Keys Attractions
Key West and Florida Keys Attractions
When guests arrive at the Key West Aquarium, they are greeted by the sights and aromas of sealife. There are a few different levels of the aquarium for visitors to explore with each level featuring its own theme. Hundreds of fish and other sea animals call the facility home including sharks, turtles, starfish, and stingrays. A touch tank allows visitors to feel some of the animals, and there is a moving pathway that allows visitors to view a large tank that has some of the larger animals inside including a variety of sharks. A souvenir shop and restaurant are located in the aquarium.
Available 392 days between Now & Dec 31
At the Oldest Store Museum in Key West, Florida, not only will I get to come face to face with century-old artifacts, but I'll also be able to witness history as if I were there, thanks to live actors who make the past feel like the present. The museum houses over five thousand artifacts, examples of which include: tonics and elixirs, machinery, bicycles, worm syrup, steam-driven tractors, and more. A great deal of artifacts I'll get to see are real products once owned and sold by Charles Hamblin, who went on to sell them to Henry Flagler's construction crews which helped build the city of St. Augustine. I can't wait to see the historic Oldest Store Museum.
Available 25 days between Now & Dec 31
Ripley's Believe It Or Not! is a museum located on the famed Duval Street in Key West. Like the other museum's throughout the world that bear the name, this one is devoted to the odd, bizarre, and unusual and houses a collection of oddities that are sure to engage the interest of visitors. The museum is one of Key West's quirkier attractions, and it is one that appeals to a wide range of ages. For those who delight in the unusual, this museum is likely to delight; stopping at this museum is certain to make any trip to Key West a memorable one.
Available 392 days between Now & Dec 31
When interested in the historical city of Key West, consider visiting the Sails to Rails Museum located in Key West, Florida. The museum is appropriate for all ages and is handicap accessible. It takes on average two hours for most people to walk through the museum. There are many displays available some of which include the Flagler Station Exhibit, the Fort Jefferson National Park and the Key West Historic Timeline. Key West in known for its diverse sailing endeavors such a piracy, turtling, fishing and cigar production. This Age of Sail led the historical city right into the excitement of the steam engine and the railroad industry.
Available 392 days between Now & Dec 31
Ripley's is a noted name among museums; the museums that bear that name each boast an array of oddities and curiosities for the interest and enrichment of their visitors. The Ripley's Museum in Key West, which is located on the noted Duval Street, is no exception; it allows visitors to enjoy seeing things ranging from mind-boggling visual illusions to a vampire kit. A trip to Ripley's Museum in Key West offers the chance to enjoy one of Key West's strangest attractions. It is a must for any diehard fan of the strange or odd, and it is an attraction that holds fascination for visitors of a variety of ages.
Available 392 days between Now & Dec 31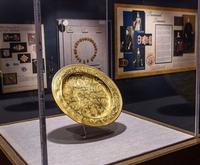 The Mel Fisher Maritime Museum is an attraction well-suited for anyone who loves history and, in particular, the history of ships and shipwrecks. The museum boasts an impressive collection of artifacts from shipwrecks; among these are items from the Spanish galleon The Santa Clara, which sunk in 1564. The museum offers the opportunity for visitors to interact with a number of items as part of the overall educational and enriching experience that it offers. This attraction makes for an excellent addition to any trip to Key West; it is family-friend, fun, educational, and certain to be a memorable part of a visit to the area.
Available 391 days between Dec 7 & Dec 31
The Key West Butterfly Conservatory is an attraction on Duval Street that features 50-60 species of butterfly and 20 species of butterfly-friendly birds that make their homes within a comfortable, climate-controlled, glass-enclosed habitat. The conservatory offers visitors the chance to relax and unwind for a few hours in a beautiful space, and it is a family-friendly attraction sure to delight visitors of all ages. The conservatory is not just a relaxing space, either. It is a fun and educational space, which also includes a Learning Center where visitors can learn more about the Monarch butterfly and get a close-up look at a variety of caterpillars on their way to developing into butterflies.
Available 390 days between Now & Dec 31
The Keys West in Florida is one of the most popular vacation destinations in the United States. One of the most popular sites to see while visiting this amazing place is the Key West Shipwreck Treasure Museum. It is appropriate for all ages and most people choose to stay for about an hour although your ticket will allow you to stay all day long. You will get to learn how about how the Keys became one of the richest areas in the United States. When sailing was the main form of transportation, over 100 boats would past during this time. The museum will tell you how that played such a huge role in their economy.
Available 392 days between Now & Dec 31