Attractions in and Around the Key West, Florida Area
Several exciting attractions in the Key West area attract people on vacation to their activity. Some of these include the Harry S. Truman Little White House Museum, the Key West Aquarium, and the Key West Shipwreck Historeum Museum. Each of these tour fantastic family attractions that are both informative and fun.
Key West and Florida Keys Attractions
Key West Aquarium attraction is one of the most popular aquariums for families and kids because of sharks and sea turtles and other sea animals and if you are planning a family vacation you don't want to miss it.
The Harry S Truman Little White House attraction has been the host to many distinguished guests since 1890 and this tour allows you to see the best of what the Key West White House has to offer.
Enjoy the great beauty of the exotic creatures and walk through a breathtaking attraction full of exhibits featuring many different species of butterflies and enjoy being near them in their natural wonderful habitat.
Experience the awe of how it felt to search for treasure when you visit the Mel Fisher Maritime Museum attraction and see 17th-century shipwreck with Spanish treasure that you can hold in your hand.
Explore the quirky and interesting artifacts found inside of Key West's Ripley's Museum attraction, where you can excite your children's imaginations with sights such as the world's tallest man, shrunken heads and a real life shrunken torso!
This is an awesome attraction for those who enjoy seeing antiques and learning about how things were done at the turn of the century as actors take part in performing scenes in the museum.
Get your thrill experience as you venture through the oddities that Key West's Ripley's Believe It Or Not museum attraction, where you and your family can view strange sights such as a six legged pig or a real life shrunken torso!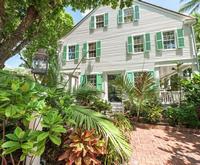 The Audubon House and Tropical Gardens of Key West offers up a tranquil and beautiful attraction to visit; enjoy touring the residence with its variety of antique furnishings, and stroll along brick pathways through the property's gardens.