Key West Sunset Snorkel Sail

201 William St Key West, Florida 33040
1-800-987-9852
Description
Key West Sunset Snorkel Sail Photos (1)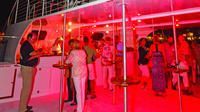 Spend three hours on the water snorkeling and having the time of your life. This will be a great opportunity for you to spend your time enjoying yourself and see a lot of great nature. Key West is one of the most beautiful places in the entire country. It will be an exciting time for you and you will have a lot of fun and adventure. You will get to see a lot of cold Marine life up close and personal. You will be able to snorkel in one of the largest coral reefs in the entire world. If you're looking to spend your time truly marveling at one nature has to offer then you should look no further. This will be something you want to tell your friends and family about because snorkeling in Key West is an adventure that cannot be beaten.
You will check in 30 minutes before you start the trip and then you will head to the tropical waters of Key West. The place is called living coral reef and it is one of the biggest in the world. You will be able to enjoy warm waters that are fun to be in and you will get an up close and personal look at coral and other animals. This will be the adventure of a lifetime and you will be able to relax and sip cool beverages as you spend your day doing this adventure. There are so many things you can see once you're in the water that you will not get bored.
On top of all of this, you get to enjoy the most beautiful sunset you've ever seen which can be seen in Key West. It will be a rewarding experience for you and you can bring your friends and your family as well.
Check in at 201 William Street 30 minutes before your trip time.
Sail to the Living Coral Reef on the Tropical Key West Waters
Snorkel the living Coral Reef the 3 rd largest coral reef in the world
See Tropical Fish and Living Coral in the warm tropical waters in the Atlantic Ocean
Sail back to Key West Harbor Where the Gulf of Mexico and the Atlantic ocean meet
Watch The World Famous Key West Sunset from the large deck of the Sandie Cat a custom built Gold Coast boat.
Sip a cool Beverage as you enjoy the wonderful Key West Weather and feel the tropical breeze as you listen to music
Back at the dock in three hours and what a wonderful time on the water

Pickup & Return:
201 William street at the Sunset Watersports Booth.
Departure Times: May 26th to August 13th 5:30 PM
August 14th to September 5th 5:00 PM
September 6th to September 26th 4:30 PM

Includes:

Does not include:
Gratuities (optional)
Gratuities (recommended)

Additional Information:
Confirmation will be received at time of booking
Children must be accompanied by an adult
Minimum drinking age is 21 years
Key West Sunset Snorkel Sail: Aug 14 - Sep 5th 5:00 Pm
Sunset Snorkel Sail
Key West Sunset Snorkel Sail: Sept 6 - Sept 26 4:30 Pm
Sunset Snorkel Sail
Book Now!